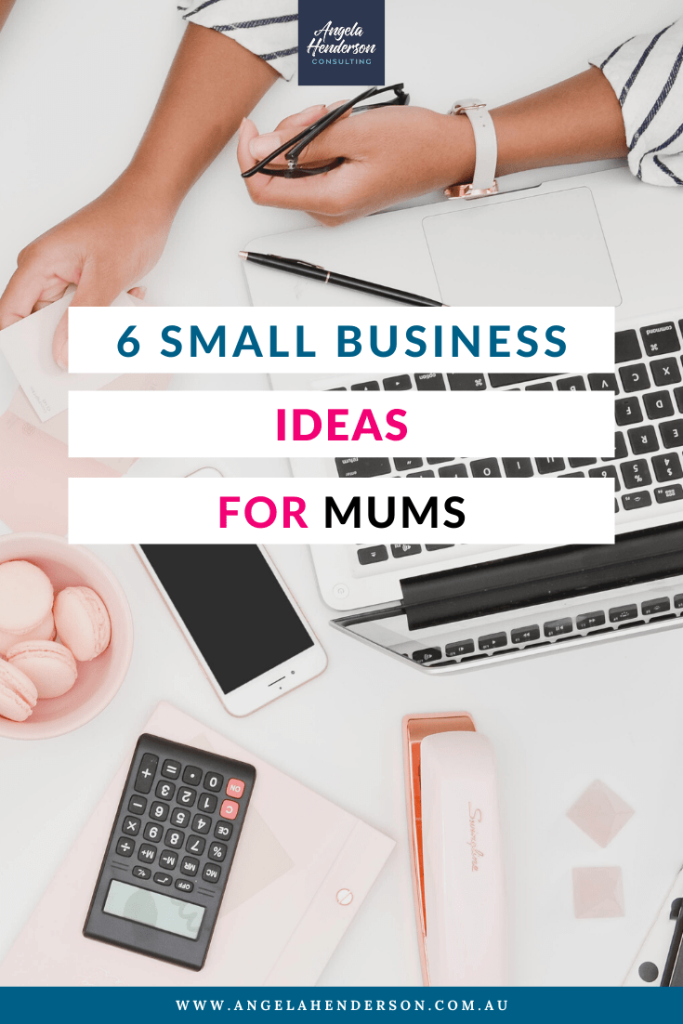 Whether the kids are off at school and you have some more time on your hands or you want to earn a little extra money for the family, a side hustle is always a worthwhile venture for stay at home mums. The only problem is that you have no idea where to start and what type of business might suit you best.
Don't sweat it! Here I share what the benefits are of running a business as a stay at home mum.  As well as sharing 11 of my favourite business ideas for mums that are low cost, flexible, and cover all different skill sets.
Benefits of Starting a Business As a Stay At Home Mum
If the past two years of a pandemic world has taught us anything, it's that flexible and remote working is here to stay. The stigma of running a business from home is not the same as it was in the past. As a mum, there are a number of key benefits that make home based businesses appealing. These benefits include:
Flexibility to choose your own hours
Spend more time with your family
Minimal risk 
Create an outlet for yourself
Earn an income while still be at home
Flexibility – Let's face it, having the flexibility to manage a family and create your own work-life balance to suit is a major drawcard. You get to decide when you work and how many hours you put in each week.
Spend more time with your family – no commute, no lengthy meetings and no colleague distractions. That's time you've now got to enjoy with your family.
Minimal risk – Running a business from home is much less risky than starting a new bricks and mortar business. Not to mention a lot less expensive. Plus once you're established the ongoing upkeep and
maintenance is much simpler and easier than a separate business location.
Create an outlet for yourself  – your side hustle or home business is something just for you. Enjoying what you do will go a long way to helping it succeed.
Earn an income while still at home – your at home business can be a great way to contribute to your family's financial position. Plus you'll still be available for your family when needed.
Business Ideas For Mums
Before I dive into the 11 at home business ideas for mums I think it's important to note that the best business ideas are usually born from something that you are either good at, passionate about, or have an interest in.
Particularly if you're going to commence an online business as a side hustle while juggling your time around mum duties, you'll need to ensure you pick something worth dedicating your precious time towards.
A good way to help you settle on an idea is to brainstorm a full list of everything you are passionate about and interested in. Once you have prepared this list then cross reference it against what you are good at. This should narrow down the list to help you land on your idea. For example, I might really love crocheted items but if I can't crochet or I am not good at it, then it is not the right business to pursue.
Given my time as both a business owner mum and a business coach, over the years I've seen firsthand from mums in business what business ideas work best for them to work the hours they desire and earn the income they deserve. Here's my top 11 business ideas for mums to get you started on what might work best for you. 
1. Start a Blog
When starting a small business, it's always a good idea to build from what you know. A blog is a brilliant way to do this and is easy to do from home in your spare time. Think of something that you have a solid foundation of knowledge in. This can be anything from whatever your last job was to a new hobby you have picked up. Once you have a topic, write weekly blogs and start to grow your online community from home.
2. Become a Virtual Assistant
If you don't necessarily want to build something from scratch, becoming a virtual assistant is a great option. Virtual assistants do everything from social media management to general admin for other businesses, and being a remote role it's easy to fit around any schedule. You can help out with someone else's business, all from the comfort of your own home. Plus, you'll learn valuable skills along the way which will come in handy if you ever do want to start your own business.
3. Sell Handmade Products
Have a knack for handmade goods? Start selling your wares! It used to be that the only way you could do this was by hauling your delicate handmades to the local market and trying to sell them to passers-by. Now with online shops such as Etsy, selling your own goods has never been easier, and you don't need to leave the house once.
4. Start an Online Shop
If you want to make the move into Ecommerce, there are a couple of routes you can take. The first is retail arbitrage, which is basically buying and reselling goods online. The second is dropshipping where you source an item from a supplier, list it on your site at a higher price, and when someone orders it you purchase the item from the supplier and ship it directly from them to the customer, keeping the profit. Both are legitimate paths to take, with the perks of dropshipping being that all you need is a computer.
5. Make a Subscription Box
Use the current copy that is on the article here but increase copy in this section.
Is there anything you wish you could have delivered to your door monthly? Be it relaxing bath supplies, positive affirmations, adorable stationary sets, or honestly anything else you can think of, make it into your own branded subscription box and sell them online.
6. Launch an Online Course
If you have expertise in something and know a subject inside and out, then there is likely to be an audience out there that is willing to pay you to impart your knowledge.
As someone who has helped my clients through the process of creating a course, my main advice would be to not underestimate the time it will take you to put the course together. It can be a time consuming exercise.
But the benefit is that once it has been created you only will need to make small updates as required and can sell the course over and over for a number of years.
As a starting point you might like to create a free small course to start with to ensure there is an audience for your course, and as a way to have some leads ready to go for when you look to upsell them to your more expensive full course. 
7. Become a Copywriter
If you have a knack with writing then becoming a freelance writer can be a great online business option that you can do part time. As your reputation builds if you wish this can turn into a full time job.
Most of the work in this space for freelancers is focused on content creation for small and medium businesses. So that includes blog posts, ebooks, copy for web pages, Facebook ads etc.
While just about anyone can start this as a business, the higher paid jobs are usually for people who have a background in marketing, sales and SEO.
8. Affiliate Marketing
Affiliate marketing involves recommending products or services to customers and as a result if your customer makes a purchase you receive a commission for the referral.
A lot of bloggers and business owners in the online space utilise this as a way to earn extra income and in general you would require a website to get approval into some affiliate programs.
There are a lot of businesses of the 11 included in this article that could also use affiliate marketing to create an additional income stream.
For example, you may become a virtual assistant and as part of this start a blog about the benefits of hiring a VA as well as resources that can save time for business.
These resources can be links to things like Xero and Active Campaign that you also get a commission from when people sign up.
9. Social Media Management
If you have a background in marketing or have experience in managing social media accounts this could be a good option for you.
Social media can be such a time consuming job for a small business so more and more companies are seeking to outsource this service.
As a Social Media Manager you will be tasked to help build up a brand online. Being familiar with the different social channels and how they require a slightly different approach to marketing is beneficial.
10. Graphic Designing
Obviously having a background in design is going to be ideal here. As a minimum I would suggest you take at least some training in learning the foundations of graphic design and become familiar with the likes of Adobe Illustrator.
But with the rise of online programs you can create a range of graphics in simple to use programs like Canva and PicMonkey. If you have not tried them out I suggest you check out the free versions to see exactly what they can offer.
Many of the graphics you see associated with my blog posts and throughout social media utilise the two programs listed above.
11. Get on Air Tasker
If you want to earn a little extra cash but aren't quite ready to commit to an entire business, you can always see what's going on Air Tasker. Sites such as these allow anyone to post any job they need doing to the general public. This is perfect if you want ultimate flexibility as you can pick and choose the jobs you take on and stop whenever you want.
Steps to Get Your Stay at Home Business Started
Now you've got some idea about what type of stay at home business you'd like to create, it's time to get planning. Although it's tempting to skip this stage, following these steps to get your stay at home business started will go a long way to helping you succeed.
Create your business plan
You might be wondering if this step is worth it. Well, the answer is yes. It lets you get some clarity about your goals and what you want to achieve. Plus it will give you a roadmap to help you stay focused and on track.
Research you market
You might think you have a brilliant business idea, but do other people agree? Researching your market will help you learn why customers will want to purchase your service or product. Getting feedback by providing your service or product to a couple of customers free of charge is a great way to help you understand more about what you're providing.
Identify your ideal client
Pinpointing who your ideal client means you'll be able to target them so much more effectively. Once you've identified who your ideal client is you'll be able to attract them and provide what they want a lot more easily.
Define your USP
It's unlikely your business will be completely unique. But there are unique aspects that only you will bring to your business. Defining your unique selling position will help you effectively communicate to your customers what sets you apart from your competitors.
Create a marketing strategy
Writing a marketing plan can help you to identify the best activities and platforms to market your product or service. It will identify who your customers are, how you'll meet their needs and what marketing strategies you might use to connect with your customers.
Where to From Here
Running a stay at home business as a mum can provide you with a range of benefits, especially when it comes to creating the ideal work-life balance for your family.
Once you've explored the potential business ideas I've given you, let your mind think outside the square to help you nail down what type of business will suit you.  Remember it's a good idea to have an interest in, or be good at what your business provides. It will give you a much greater chance at succeeding.
Following my steps to get your stay at home business started will let you gain some clarity and direction before you kick into action finding your first customers. It's worth taking the time to nail down some of the details about the market, your ideal client, and what's unique about your service or product as it will help you meet your customers expectations and set you out on the right path from day 1.