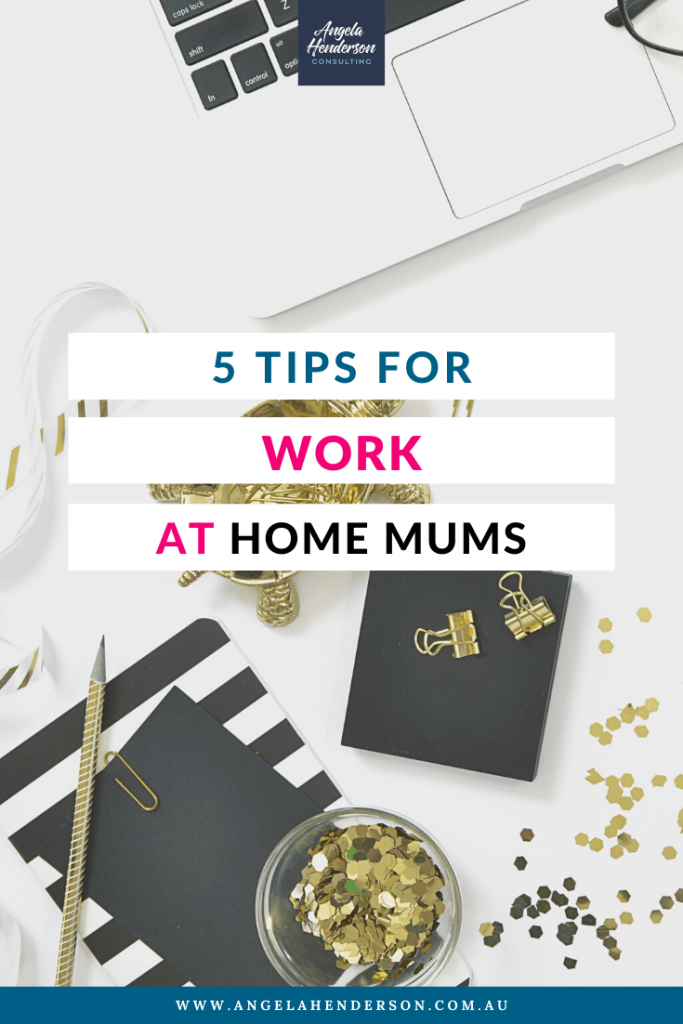 Are you a work at home mum? Are you like me and still have small children at home full time – or maybe just in daycare or school only 1 or 2 days per week? Then l want to share with you my 5 best tips for killing it as a work at home mum.
Those early years, before your children start full time school, could be looked upon as the worst time to start a business or take on a work at home opportunity. But in reality, they can also be a woman's most creative years. Not only that, in this modern world, financial responsibilities can also mean that those early years need to be shared between children and work or children and business.
So how do you make the most of the time to create a life where you can be the best of both – a mother and a business owner?
Top 5 Tips for Work at Home Mums
There are plenty of tips I could give however, I wanted to give you my top 5 tips for work at home mums that will allow your business to grow no matter what.
Tip #1 – Let it Flow
The best advice I have is to just let it flow. Now this might seem a bit wishy washy, but honestly the most productive days I have are the days when I just let it flow.
It might mean playing Lego for an hour before writing a few blogs while the boys nap or making a phone call while the boys have morning tea so they're too busy eating to make noise.
It might also mean only achieving one thing for that day, however small and then getting 10 things done the next day. The ebb and flow of motherhood has to coexist with your business and not be dominated by it.
Tip #2 – Just Pick One Thing
This is as simple as it sounds. The days when I attempt to tackle a massive to do list with the boys at home are the days when I feel the worst. But when I just set out to achieve one thing for my business – and better yet – I actually achieve it – I feel a great sense of accomplishment.
And if I achieve more than one thing, well it's an absolute bonus! Seriously, I've built a business around a 2 year old and 4 year old, starting when my youngest was just 6 months old, so traditional business task strategies just didn't work.
I leave the massive to do lists for day care days or nights when I have a few hours up my sleeve.
Tip #3 – Use Every 5 Minutes
While I never tried to tackle my to do list all in one day, I did still try to write one. In fact, each night before I went to bed, I'd try to empty my thoughts and prioritise a few things for the next day. So even if I could only do one thing – I knew what the most productive thing would be.
But I also had a running list of "little tasks" so that whenever I had 5 minutes to spare around the kids, I could quickly pick something on the list and get it done, without wasting that time wondering what it could be used for.
Some weeks, this is literally how I achieved things! Just by using every 5 minute window I could.
Tip #4 – Run Your Own Race
Comparison is the thief of joy. Yes there might be other WAHM who achieve more, are more successful or have a seemingly better business than you. But think about where they might be on their journey – have they been in the game longer, are their children at school full time, do they have an au pair?
Better yet, just concentrate on your journey, your to do list and your vision. Watch things transform and change when you focus your energy and your vision on your own lane.
Stop the comparison and I guarantee you'll feel more confident and therefore achieve so much more!
Tip #5 – Outsource
As my business consultant I'm working with would say: "You can't do everything yourself." It's simply not possible, especially when you're also trying to raise kids, run a household, be a wife – oh and perhaps enjoy life too?
So outsource what you can. That might mean getting a cleaner, an ironing lady or sending the kids to daycare. It may mean getting a VA. Whatever it looks like for you and your business, make that happen for you.
You may not be able to outsource anything business related just yet. That's ok. Maybe it's more beneficial at this stage to outsource household stuff, until you're making a little more? Just do what works for you and your family.
Final Thoughts
I hope you found these tips for work at home mums helpful. Remember Rome wasn't built in a day. You've got this.
If you're wanting to join an active Australian business Facebook group, I would strongly encourage you to join the supportive Australian Business Collaborative.
Have an awesome day,
Kate
About the Author
Kate is the founder of South West Mums, coffee connoisseur, FIFO Wife and Mumma to two boys. She loves to explore and write about life in South West WA, motherhood, business and the effects of FIFO on family life. You can connect with her on Instagram and Facebook or read more of her blog here.