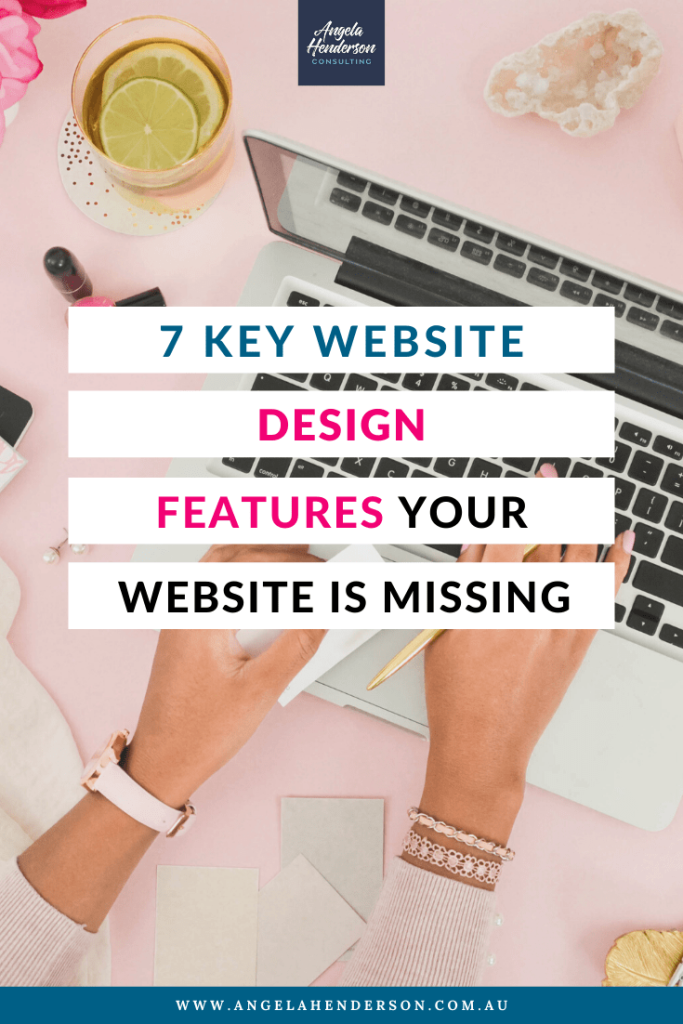 It's a bit of a misnomer that as soon as you put a website together, people will come flocking. Your products and services will sell and your business will be living the dream. As many business owners know, the reality and dream are world's apart and your website is key to your business succeeding in the modern era but yet so many businesses are missing the key website design features needed for a successful business.
Many DIYers who brave the challenge of building their own website do a good job. They get their vision on screen and are happy with the result. But, in a lot of cases there are key conversion features that are missing. Interestingly, some web designers and developers also miss vital design features. Luckily, most can be fixed pretty easily.
The 7 Key Website Design Features Your Website is Missing
I'm going to share with you 7 key website design features that are missed on many websites, costing you Google rankings and customers.

1. Mobile Responsiveness
This is numero uno in the modern website. Stats show almost 80% of your website traffic is going to come from mobile visits. If your website is not mobile responsive – meaning that is doesn't convert and sit nicely on a mobile device (usually in a single column) – then you are in for a tough ride. Imagine how many customers you could be missing out on if your site can't be seen on mobile. Google also allocates a lot of ranking points to mobile responsiveness, so you won't be anywhere near page 1 with a poor site.

2. Newsletter Opt-in or Sign Up
Marketing is a big part of building and maintaining a successful business. Your mailing list is an asset to your business. Unlike Facebook pages, Facebook groups and Instagram followers, you actually own your mailing list. No third party app can delete your account or take it away from you. You also control when you send your campaigns and who sees them. An opt-in is a must for your site and needs to be prominent and enticing. Pop ups work well for grabbing attention, but be careful not to have them pop up in the first few seconds as this can be off putting. A good rule of thumb is to wait a period of time (45 seconds is recommended by Google at the moment) or have it pop up on exit to grab them before they go. For product based businesses, a sign up discount off your first order is always a good draw card as everyone loves a saving! All for the cost of an email address.

3. Clear Message About What You Do
Websites that are confusing or ambiguous can distract your potential customer. Did you know you have less than 10 seconds to grab your visitors attention? In that 10 seconds your visitor needs to know what you do, how you do it and why they should stick around. A hero banner across the top of your site is a good way to show what you do and hit them when they first arrive on the site. Make sure your image is clear, to the point and remember that less is more. The next section of your site should be a short spiel about what you do and what problem you solve your customer. Text is good for Google as it gives readable content, but it also speaks to your customer literally. Your next section would be call to action buttons that direct your customer to the key areas of your site. Make them clear, concise and easy to click.

4. Clear Call to Actions
This brings me to my next point, clear call to actions. What does this mean? A call to action is a prompt for your visitor to go to a specific page on your site or take a specific action i.e. read your latest blog post or shop now. Call to action buttons keep potential customers on your site longer and reduce your bounce rates. The longer your potential customer is on your site, the more chance you have of convincing them to become a paying customer. A call to action button should also be on your main hero header as well for people who really don't like to scroll.

5. Contact Information
I don't know about you, but there is nothing worse than going onto a website and not being able to contact the business. Especially a service based business like a tradie where phone calls are your business! Think about how easy it is for someone to call you, email you or submit a contact form enquiry. A good way to make your site user friendly is to pop your contact details in the top bar. The top bar sits above your header (where your menu and logo lives) and is visible as soon as someone lands on your site. Clickable buttons are also possible with a little bit of coding or a plugin (for WordPress) so your phone number is instantly clickable on mobile devices.

6. Testimonials
You might not think these are overly important, but testimonials are one of your biggest assets and one of the key website design features businesses fail to include on their site. They set you apart from your competitors and instill trust and faith in potential customers. How many times do you go to buy an item of clothing and check out the reviews or testimonials first? Positive testimonials from real customers are worth their weight in gold. A good way to boost your testimonial library is to send a follow up email a week after you've sent your product or completed your service. Make it easy to click and easy to review. That way people can send you a testimonial while your still fresh in their mind.

7. About Us Page
It's a fact, no one likes to write about themselves. As a result, the about page becomes a forgotten page or a 3 line blurb on why you started your business. For small businesses and sole traders especially, an about page is your way of connecting with your potential customer. It may be your only communication with them and the only chance you get to show them why they need to choose you. Building a connection and rapport through your about page will help convert those who are looking to connect with a person rather than just make a purchase. For service based businesses this could be your key point of difference in your market because no one can be you or copy you.

Other notable mentions: Facebook Pixel for tracking Facebook traffic and conversions and Google Analytics for learning about your audience and overall site performance.

When you're building a website, you are essentially building 2 sites. One for desktop and one for mobile. What looks great on desktop design wise may not translate effectively to mobile. Peg the mobile view back and make sure your call to actions fit on the screen. Also look at the scroll, the longer your homepage is on desktop, the longer it will be on mobile. Look at your site from the perspective of your customer rather than as the business owner. What you might think looks pretty might not be practical or encourage conversions.
If you're wanting to take a look at a website that meets all of these key website design features and more check out business coach Angela Henderson's website as she has truly demonstrated what is needed to have a conversional website.
So how is your website looking? Are you ticking all the boxes or do you need to work on some of the key website design features mentioned in this article?
About the Author
Belinda Owen is a web designer and copywriter based in Brisbane who specialises in designing beautiful WordPress websites and writes content for working Mums and small business owners.

You can find Belinda at:
Her Website
Her Facebook Page
Her Instagram Page