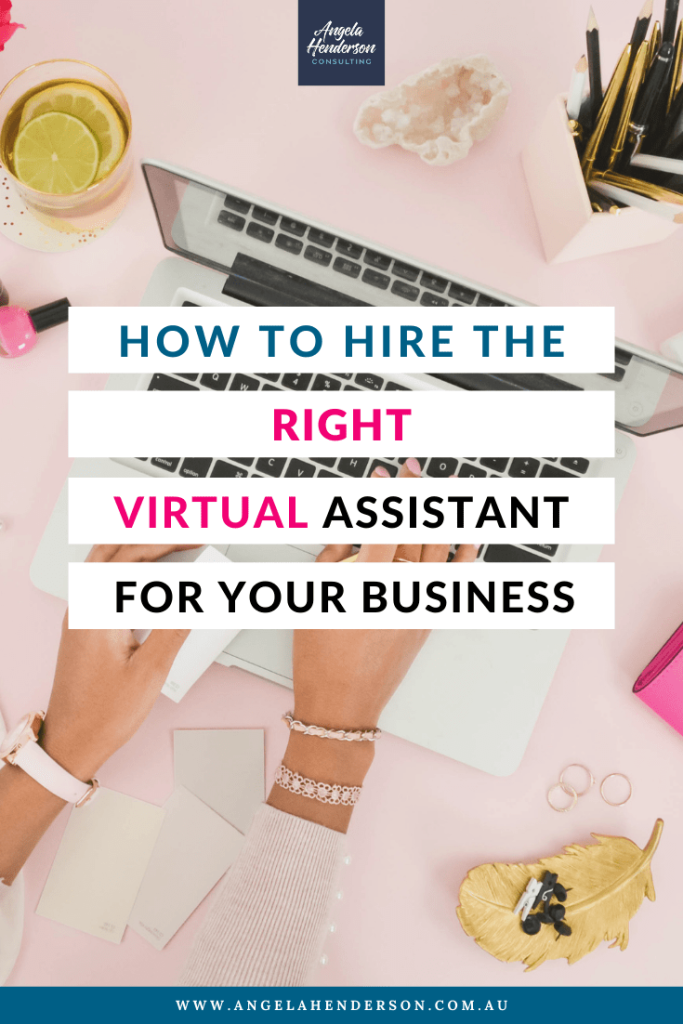 Hiring a virtual assistant is an exciting step for any business owner or entrepreneur.  It is a great way to scale your business so that you can focus on less of the nitty gritty and more on the business building. Finding the right virtual assistant doesn't have to be difficult but there are a few important steps to consider.
What to Outsource
There are lots of tasks in your business that you need to let go of. To get an idea of what to outsource, sit down and write the top 10 things that you are comfortable in outsourcing in your business. These can start off as basic tasks and as you begin to trust your virtual assistant, you can add to this list.
If the list covers some specialist skills, you may like to hire a second Virtual Assistant or Online Business Manager that can cover more of these tasks. A jack of all trades may not be as effective as a Virtual Assistant that is a specialist in a few areas.
You will want the Virtual Assistant to have everything he or she needs to complete the tasks that you assign. If the Virtual Assistant has set up a quality and viable business, they should have the majority of the basics set up already such as a good internet connection, Microsoft Office, Email Accounts, File Sharing Software, Virus Protection, Project Management Software. They should also be able to guide you in some other options for productivity too.
What Characteristics should you look for?
Following are some of the characteristics that you may like to consider in a Virtual Assistant. You may not find someone with all of these characteristics but pick the ones that most identify with the requirements of your business.
Self-Motivated. Working as a Virtual Assistant requires a high level of motivation. They get projects completed ahead of a deadline.
Forward Thinkers see the whole picture and offer ideas to help you reach those goals.
Takes Initiative. If they see something that requires completing, they do it and don't wait to be asked.
Resourceful. If they don't know the answer, they normally know how to find it
Good Communicator. Good communication skills via email, phone and in person.
Professional. They conduct themselves in a professional way in their written and verbal communication.
Organised. Disorganisation leads to frustration and potential mistakes
Dependable. They show up and complete work as requested.
Trustworthy. This one is non negotiable. If they are not trustworthy, it's time to find a new VA.
Efficiency. If you are paying an hourly rate, efficiency is important to ensure that costs do not blow out. It can also the difference between getting a sale or not.
Set your budget?
Most virtual assistants have set prices or packages so it is important to decide prior to speaking with a VA about what you can afford each week/fortnight or month. This gives you a good idea when speaking to them on whether you can afford that service.
Hiring a virtual assistant, if done right, will earn you greater profits in the future especially once you build a good working relationship with them. This takes time so working out a viable long term budget will allow you to build a good working relationship with someone that you can trust. You may even be able to take a holiday. Try to think about the value that the virtual assistant will bring to your business in the long term and how you can leverage that to make it viable or offset these costs.
Finding the Right Virtual Assistant
Now that you have a list of tasks, characteristics and know your budget, now is the time to start your search. First, reach out to your network to see if they know of a Virtual Assistant that can assist your business. You can also seek referrals from other business owners, colleagues or friends to see if they know an assistant that will fit in well with your business. If you are not having much luck, connecting with a Virtual Assistant Network such as VA Placements is a great option, they can shortlist applicants and send you through the closest match.
Once you find a shortlist of candidates conduct some short interviews to see if they will align with your business. This is important to build that long term relationship.
Last of all, how do I manage my Virtual Assistant?
Now that you have found your perfect VA, how do you become a manager? First, set up a good training and onboard induction to your business. Ensure that you set clear expectations of what is required. Set the tasks in a project management software such as Asana so that you can check in easily that the tasks have been completed. Last of all, let go and outsource, outsource, outsource.
Susan Wilkin
Susan Wilkin is a highly experienced Virtual Assistant who has really taken her business to the next level over the last 10 years.  With her professional approach to her business and wealth of experience in the VA field, Susan helps her clients to build their authority and authenticity through online courses, social media and content marketing.
After delving into business in 2009 Susan's business Adminaholics has grown over the last 10 years to also include marketing, training, consulting and info-products to make it viable with different income streams.
Susan's expertise has been sought after by Authors, Trainers and Speakers who also specialise in different fields. Not only is Susan an innovative thinker but is known for achieving that end goal and next level results.
Susan is also a consultant with 121 Temps who coaches and trains many virtual assistants to build successful and viable businesses.