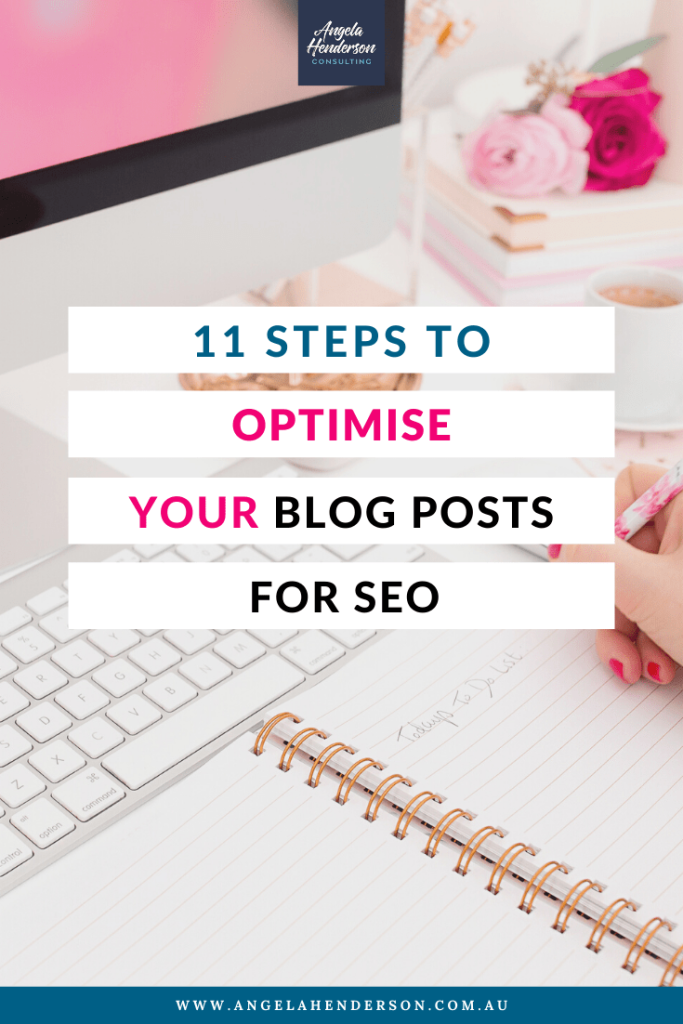 Having a blog is a brilliant tool to help grow your business. As a business coach, this is one thing I always recommend to my clients; especially if their ideal client consumes information via blogs. Giving valuable information to your audience helps you grow a community, establishes trust and credibility, drives traffic to your website, enhances your SEO, and provides a platform for you to share your product or service.
This exposure is invaluable, but you need to follow a few rules to get the full advantage from your blog. When you're writing it, remember that it needs to add value to your target audience and tell a story. Once you have your blog written up, there are 11 steps you must follow to optimise your blog posts for SEO.
Though these tips are useful no matter where you're posting your articles, this guide is specifically focused on posting articles on a WordPress website. Before you get started, you should install the Yoast plugin, it will help you out with optimising your blog post correctly.
11 Steps to Optimise Your Blog Posts for SEO
1. Strong Blog Title
The first thing any good blog article needs in order to help optimise your blog posts for SEO is a strong title. While keywords are important when picking a title, you can't just cram it full of them and call it a day. Make your title compelling, something that you think your ideal client would click on. It can be a question, offer a solution, or both, but make sure it promises value and isn't too long. Once you have logged into WordPress and clicked "New Post", the spot to add your title is right at the top. Once it's in there, you'll see your article's link underneath it.

2. SEO Keywords
Ah, the dreaded SEO keywords. People tend to get overwhelmed when they hear SEO, but in reality, it's super simple and easy to incorporate into your blogs, and Yoast makes it even easier.
When your coming up with a keyword or a phase think about what would your audience be putting into Google in order to get their problem solved and end up with your blog as the answer.
Once you have put the content of your blog in, scroll down to Yoast and enter your focus keyword. If your blog is about presenting, use presenting as your focus keyword. If it's about small business blogs, you can use the phrase "Small business blogs" as your focus. Once you have the focus keyword set, Yoast will show you some analytics below. In them, you will see any problems or improvements to make to your article. Once you're finished with these 11 steps, most of them should show up as "Good Results" with a green circle next to them, but if you do end up with a couple of red or orange ones don't stress out, we are going for most, not all.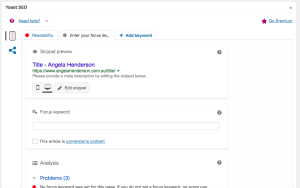 3. SEO Title
The third part you need to do to optimise your blog posts for SEO is to have a SEO title which shows up as the title on Google searches. Here it's helpful to have a format in mind. A common one is to have an abridged version of the blog title followed by a vertical slash then another keyword and then your business name to help with branding. Ensure that the abridged title has your desired keywords in it. To enter the SEO title, go to Yoast underneath the content of the blog post and click "Edit Snippet". From there you will see a spot to enter your SEO Title and Yoast has a progress bar underneath that will show you when you've reached the ideal length by it turning green.
An example of an SEO title: Women in Business Retreats| Business Coaching | Angela Henderson.
4. Meta Descriptions
Meta Descriptions are the chunk of text that appears below the SEO Title on Google searches. The current space allotted for meta descriptions allows for approximately 158 characters for desktop and 120 characters for mobiles. If you write more than this it will likely be cut off by Google. How you enter your meta description is similar to the SEO Title, just click "Edit Snippet" in Yoast and then type it into the Meta Description section and Yoast will show you when you have reached the ideal length by the progress bar below it turning from orange to green.
Remember this space is your prime real estate and you want to ensure you tell your audience about this blog so that they will want to click through to read.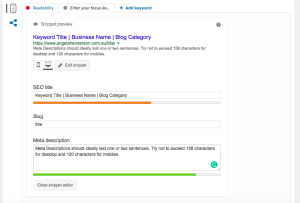 5. H1 & H2 Heading
Utilising headings is a great way to let Google know what the important information is, while at the same time allowing you to continue to optimise your blog posts for SEO . The key here is that the H1 heading should only be used once in the entire blog article for the title. This is automatically formatted in WordPress, so you shouldn't have to change any settings. If you have subtitles in your blog, make them H2 headings to give Google the heads up that they are important parts of the article. Change the heading by highlighting it and scrolling down to your chosen heading type.
Please note that at least one of your H2 Headings needs to have your focus keyword.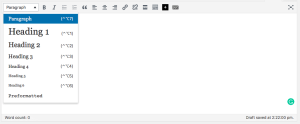 6. Use Images
Images make your posts interesting by breaking up the text and giving you a visual representation of the content. Choose one strong image from a whether professional photos you have or from stock website to put at the top of your article (you can check out my top 10 Free Stock Images Sites here). Make it relevant to your blog topic and try to pick something that fits with your brand.
Once you have your image selected, change the file name to fit in with your keywords, putting a hyphen rather than a space in between each word. Then resize your image. This can be done using any resizing software, and doing this cuts down your page's loading time as it doesn't have to render a massive image.
Example on how to save your image.. what NOT to do: 0123.png what you WANT is angela-henderson-consulting
7. Alt Text Your Images
When you insert the image into your article, make sure you assign some alt text to it. This is once again the keywords that are relevant to the image, this time with spaces separating words, not hyphens. Once you have jumped through all these hoops you will have optimised images on your blog that will help with your ranking and add some visual interest to the article.
8. Content Upgrade
A content upgrade is an offer from you to upgrade whatever content the reader is getting from your article. This is part of your sales funnel, allowing you to convert warm leads through your free content. Put your content upgrade towards the end of your article and you'll need to connect this to your email marketing platform that you use; I personally love Convert Kit. Keep in mind that the whole point is to upgrade the content they are already reading, so the content upgrade has to be relevant to your blog.

9. Internal Linking
No matter what your blog is about, try to mention a product or service that you offer as it is good practice to link to it within the article. This can be done by highlighting where you want the link to appear and then clicking the link icon and pasting in the appropriate link. Make sure you click the settings icon and check the box to make the link appear in a new tab. This not only makes your site easy to navigate for the user reducing your bounce rate, but it also strengthens your website's SEO.
10. Bio
At the very end of your blog, add a little bio that includes who you are and your mission statement. This will introduce you to new readers, letting them in on who you are and why they should trust you and your content. It can be exactly the same each time, just copy and paste and you're set.
11. Share it
Lastly and perhaps most importantly, make sure you share your blog! Post it to all your social media profiles so that your community actually knows it exists. Without this step, you may as well just write your blog on a piece of paper and put it in a drawer – no one will access your content unless they know about it, so share the sh*t out of it!
These 11 steps will unlock the secret to a successful business blog. Work through them all every time you post in order to ensure you optimise your blog posts for SEO.
If you want to learn more handy tips and tricks for small business owners, make sure you check out my Facebook group Australian Business Collaborative where business owners can connect and support one another as they grow.
Have a great day,
Angela