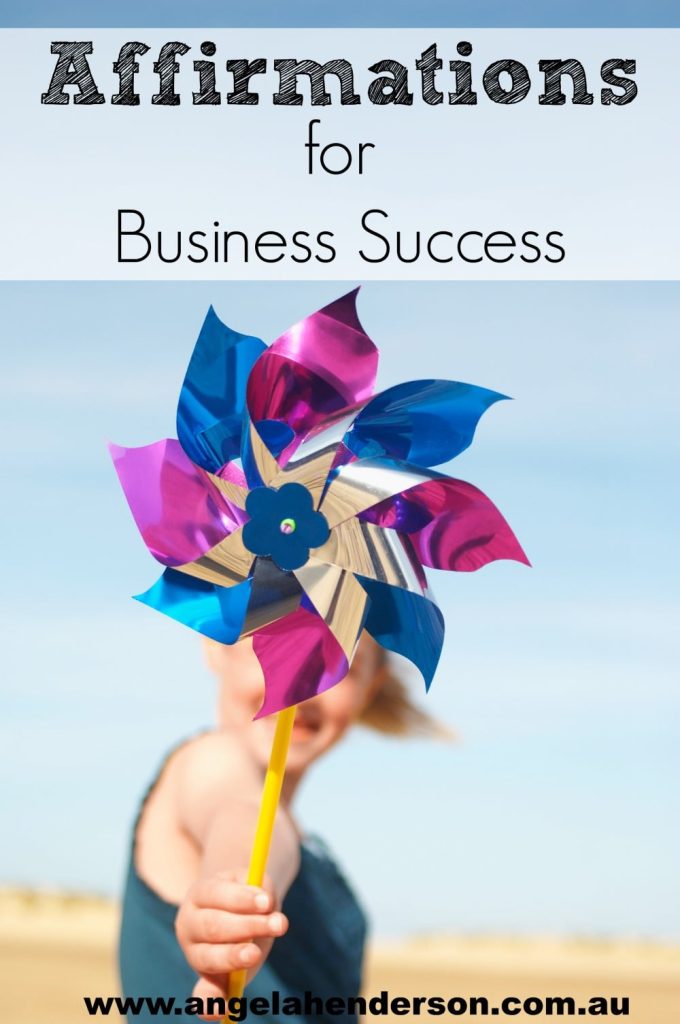 Having a successful business isn't just because of the training you get, the small business consultant you work with or getting lucky, it's a combination of things. In fact, so many entrepreneurs and small business owners forget about working on their mindset and in my opinion mindset is where it's at.
Now I'm not going to sit here and say that I am brilliant at mindset, it's probably my weakness, but what I do know is that I try every single day to work on rewiring my brain. Making myself a better person both for my business coaching business, but more importantly for my family.
What are Affirmations?
Many people over complicate affirmations, where as I like to keep things super simple. Affirmations for business success literally mean simple sentences or short statements that we repeat to ourselves on a daily basis to re-shape/re-wire our brain.  Through this repetitiveness of daily affirmations, we start to impact our subconscious mind which results in replacing negative thought patterns with positive ones over time.
What Affirmations Do
There are numerous things that affirmations can do for you such as but not limited to:
Improves productivity
Increases motivation
Improves self-esteem
Increases confidence
Keeps the mind focused
Helps to reach goals
Changes negatives thoughts and replaces with positive thoughts
How to Use Affirmations
Incorporating positive affirmations into your day is super easy.
Choose 5-10 minutes during the day to go through your affirmations for business success. I choose to spend 5 minutes in the morning and 5 minutes at night. It's what ever works best for you and your family.
Choose affirmations that have meaning to you because when you connect with an affirmation you'll naturally succeed quicker because you believe in it.
30 Examples of Affirmations of Business Success
1. I love and enjoy what I do
2. I provide a product/service that people want and need
3. I am a smart and successful entrepreneur/business owner
4. I wake up with the best job in the world
5. I enjoy being positive
6. I am a powerhouse, I am indestructible
7. I always make time for family and friends
8. I am in charge of life
9. I focus on what is truly essential
10. I am grateful for receiving ($x) each month
11. I picture abundance for myself and others
12. I'm worthy of my success
13. I am driven by passion and purpose
14. I enjoy giving back and helping others
15. I invest in myself and in my business every day
16. I am making a difference in this world with my business
17. I create wonderful business opportunities
18. I am a successful business leader
19. I treasure the freedom my business provides me
20. I deserve whatever good comes my way today
21. I am creating new and loyal customers every day
22. I have a successful business with great people in my team
23. I know how to say no and mean it
24. I am surrounded by people who love, respect and support me
25. I am in charge of my life
26. I am proud of my achievements
27. I have the power to do the most incredible things
28. I know my failures have made me a better business owner
29. I enjoy life
30. I am responsible for my success and failure
I am confident that if you start using affirmations on a daily basis that you WILL see positive results in your business and personal life.
Grab you free 30 affirmations for business success below, cut them out and start bringing more positivity into you life.
Wishing you all an awesome week,
Angela
Angela is an entrepreneur, business consultant, Netflix blogger, author, mental health clinician and most importantly a mother.
Connect with her in her Facebook Group, Facebook Page, Instagram, Linked In and her website Angela Henderson Consulting.