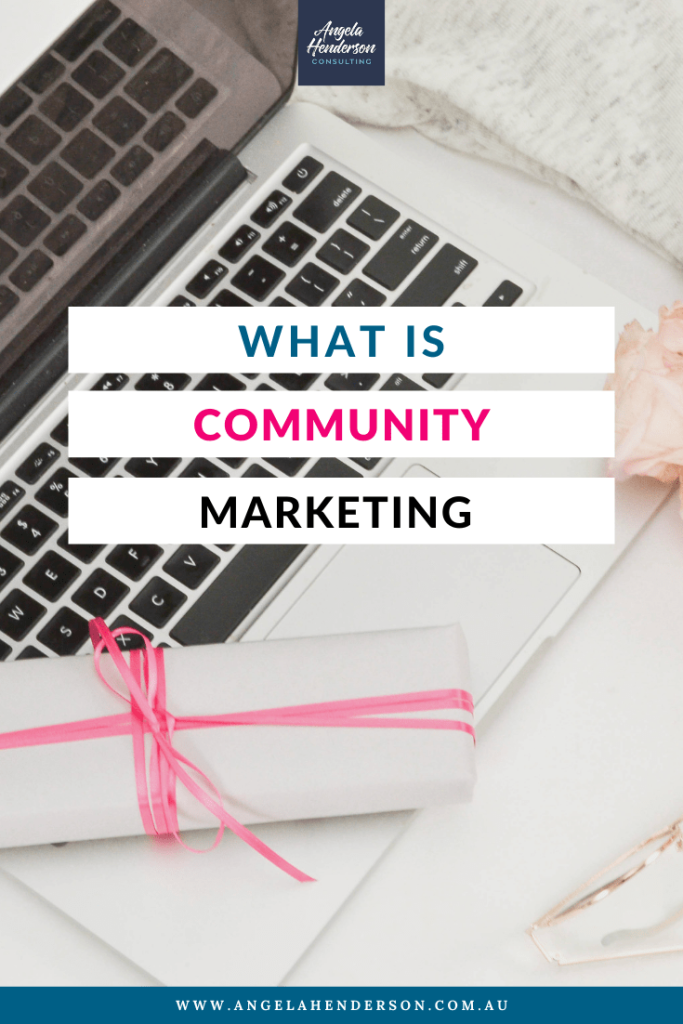 It's harder than ever to cut through the noise and reach your target audience. You can no longer rely on one marketing channel to have impactful results on your bottom line. You can't do a couple of posts on Instagram and get new and engaged followers, run a few Facebook ads and drive significant sales or collaborate with one influencer and expect an ROI off the bat… your marketing strategy needs to be holistic and comprehensive if you want to continue to drive results in the current landscape.

So, how do you do it?

With Community Marketing approach.

What is Community Marketing?

Community Marketing is an approach to marketing that puts your community at the core of your marketing strategy. Community Marketing shifts the focus from pushing a sales message to providing value and nurturing two-way relationships across every channel as the main priority.

Community Marketing is a strategy for growth and longevity and is used to achieve brand awareness, consumer trust and customer loyalty. When your community is engaged and growing, so too is your business.

If you're trying to work out how Community Marketing would work for your business, start by understanding who your community is, what channels they engage with and how you can serve them valuable content.

Who is your community?

Every business has a community, whether you realise it or not. Your community is the followers you have on social media, the subscribers on your email list, your customers and the general public who are aware of your business on some level, even if they are not actively involved in the community.

These people are your community and if you want them to purchase from you, they need to trust you, see you as the obvious choice among competitors and understand the value of your products and services.

If you want to learn more about how you can identify who your community is, this blog post might be helpful.

Why Community Marketing?

Consumers hold all of the power – they have so many options at their fingertips, their buying behaviour is changing and they expect more from the businesses they purchase from.

In fact, McKinsey found that 70% of the customer's journey is based on how the customer feels they are being treated. When consumers feel like they are part of the community and are valued, they have a deeper connection to the business and are, therefore, more valuable customers.

When businesses are invested in their community, the community is more willing to invest in the business, which means more sales, a better retention rate and word-of-mouth marketing and referrals. Sales are a by-product of a strong, engaged community so Community Marketing is your opportunity to stand out from the crowd and communicate your sales message, giving consumers what they want and need from your marketing touchpoints.

If your business is in a competitive space, community marketing is absolutely critical to developing two-way relationships and customer loyalty.

What does Community Marketing involve?

Community Marketing isn't a part of the marketing mix – it is your approach to marketing and communications. Community Marketing encompasses all of your marketing touchpoints, from social media and content marketing to PR, influencer marketing, events, advertising and traditional marketing.

You can do all of these things with a Community Marketing focus and when you do, you'll see more consistency across your marketing touchpoints, which will ultimately help you grow and nurture your community.

Where to start

To help you get started with Community Marketing here is a step by step guide to kick-start your strategy and start taking a community-minded approach to marketing.

Understand your customers and create customer personas.
Identify what marketing channels are most relevant to your target audience. You don't have to do everything – just do the things that have the most impact when it comes to reaching and communicating with your target audience.
Brainstorm the type of content you can share and how you can add value to your community, for free.
Engage in a two-way conversation with your community and look for opportunities to wow them
Outline your goals so you know what you are working towards – Is the goal to generate goal brand awareness and reach more of your target audience, or is it to acquire customers and ultimately, sales.
Plan your Community Marketing strategy around the different ways you can grow and nurture your community via the marketing channels and platforms that they look to education, information and inspiration.
Focus on storytelling rather than selling
If you're not doing Community Marketing, you're missing a huge opportunity to engage with your audience, build a two-way relationship and have a genuine connection with your community.
Teagan West
Co-Founder and Director, Free Folk Agency

With a Bachelor of Journalism under her belt, Teagan is Free Folk Agency's resident spell checker, grammar police and go-to girl when it comes to words, copywriting, content marketing and social media.

She's worked with businesses on every scale, from start-up at launch phase and family-owned business to brands with a household name in Australia and beyond, so she knows a thing or two about taking a marketing strategy to the next level.

While her clone machine is still a work in progress, she relies on copious amounts of tea and Taylor Swift tunes to get the job done.
About Free Folk Agency
Free Folk Agency was established when Co-Founders Grace Newman and Teagan West realised the power in Community Marketing and the opportunity that businesses were missing to create a two-way relationship and build genuine connections with their community. Identifying a gap in the marketing landscape, the duo launched Free Folk Agency to help businesses grow and nurture their community through social media, content marketing, PR and events.

Consumers expect more from the brands they purchase with, and they crave relationships and experiences in the customer journey, so Community Marketing has never been more important than it is today. When your community is engaged and growing, so to is your business.