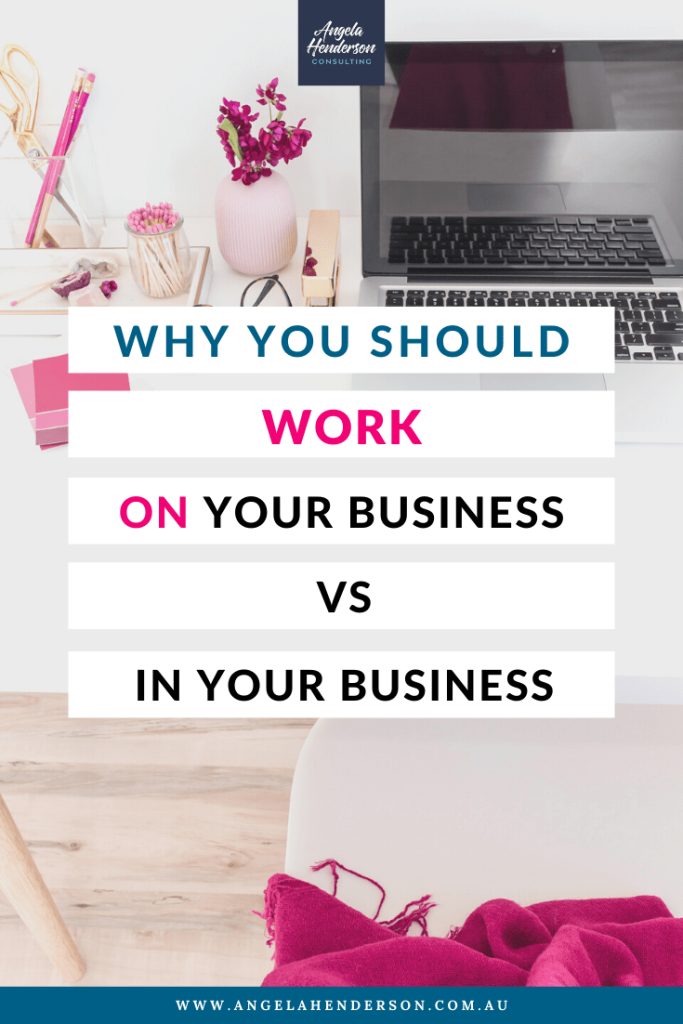 When I started my first business Finlee and Me almost 8 years ago I didn't have a freaking clue what I was doing. In fact, when it came to running the business I was working IN my business and not ON my business. I knew if I wanted to run a successful business I couldn't keep doing what I was doing. I had to find the balance between working in my business and on my business.

Work On Your Business vs In Your Business
From experience, I know that working IN your business is something you can easily get carried away with, and if you're not careful it can take up weeks at a time. Working ON your business however can easily be done if you can delegate these tasks to your team or hire someone to cover those 'IN' tasks, or if you're just starting out you may need to do these IN tasks too but you'll need to strategically plan your time.
Working IN your Business
Working in your business includes doing anything for your customers/clients that is generating income. In addition, working in your business means you are "spending time" doing the mundane things you have to do each day. This could be:
Answering any queries you may get

Processing orders
Invoicing, chasing invoices and paying them
Scheduling meetings, Zoom calls and conferences
Dealing with unexpected crisis
Working ON Your Business
Working on your business means your investing time to look more at the big picture and to make it a better business then what it is today. Through this process you are making strategic decisions and ultimately strengthening the foundations for your business to grow and leverage up. Here are some examples of working on your business:

Creating a strategic plan
Developing or sourcing new products or programs
Growing your connections through networking
Creating educational material, including podcasts and blogs about business
Marketing your business to find new customers/clients
Creating systems and processes
Hiring new staff or outsourcing tasks
Talking with a mentor or business consultant
Where to From Here
No matter what your business does, you will still need to work IN your business just as much as you are working ON your business. If you don't work IN your business and make money your business is going to fail. However, if you don't work ON your business then your business will never reach it's full potential and will become stuck with little growth.

The key ingredient to success: schedule time to work on your business vs in your business every day. I personally have my power hour where I shut down all social media, turn off my phone and only work on tasks that are going to allow me to grow my business such as: planning my women's business retreat, creating my signature coaching program for start-ups and small business owners or I head to an event to network and grow my connections. If you can't do a power hour then start with 30 minutes a day, and you'll start to notice a shift in your business almost immediately.
What are you doing to work on your business vs in your business? Let me know below as I love hearing about what businesses are doing to grow.
Wishing you all an awesome week,
Angela
Angela is a business consultant, entrepreneur, Netflix blogger, author, mental health clinician and most importantly a mother. Connect with her in her Facebook Group, Facebook Page, Instagram, Linked In and her website Angela Henderson Consulting.
Book In for Your FREE 30 Minute Discovery Call
If you're struggling with what you should be working ON vs IN and you're ready to take the next step, you have the desire to work smarter not harder and you're financially prepared to pay to work with a business consultant I would love to connect with you for a free 30 minute Zoom call where we'll talk about your struggles, goals, and explore at the end how I can help you in my role as a business consultant.
Click on below on the image to book in for your 30 minute Zoom call.