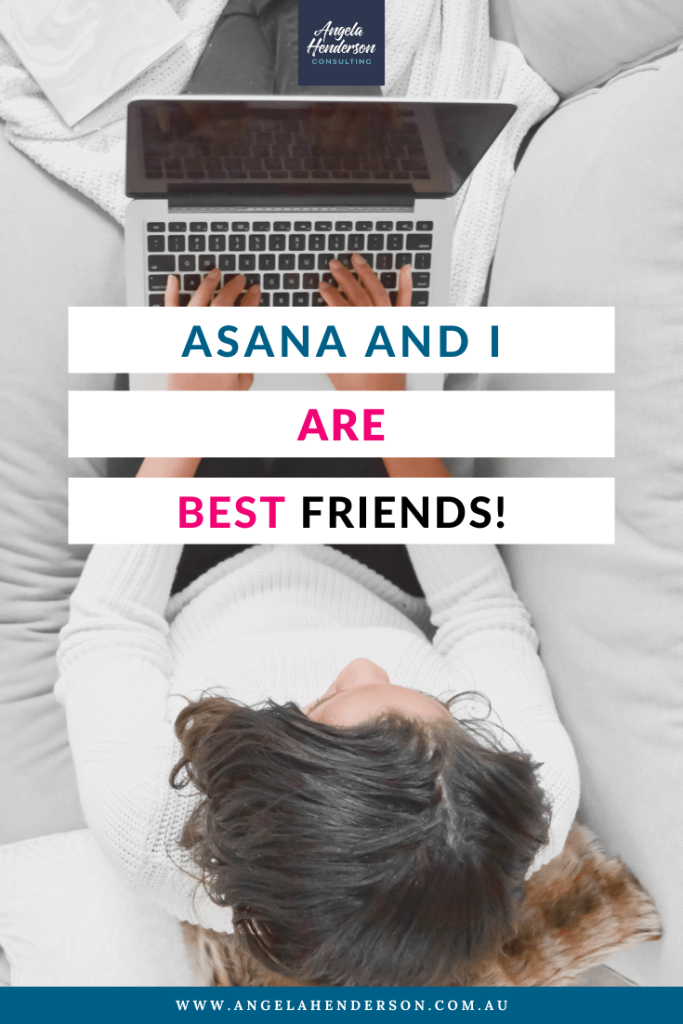 Now you are talking to a gurl who loves to have policies, procedures and lists for everything. In saying that I still have 2 hard copy diaries as well as my Asana. So, when I say to you that you need Asana – I mean it!
Asana is, in my opinion an amazing organisational tool that I absolutely love. It helps me run my business smoothly, easily and I know exactly where I am meant to be, between the constant interruptions of children and phone calls. I treat Asana like my desk dairy, it is open all the time, in fact I don't even know that I actually close it, I can just throw information in there as and when I need to and that is amazing because there are times when I don't know what I did 5 minutes ago.
So, as a busy virtual assistant and mentor, I am going to assure you why Asana is an absolute must and why every business should be using it, big or small – or at least check it out.  
This is what my board looks like:
One Stop Shop
Asana has the option to make boards or lists of my clients and all the tasks I have to complete, so at anyone time I know exactly where I am meant to be in a project. Personally, I love the boards, they look more inviting then lists. It also allows me to mark tasks off too so I am not flipping pages back and forth. I put things in here like my hex codes for the branding colours so I am not scrounging around trying to find that piece of paper, I have my ABN in there, bank id numbers, you know the ones you can never find when the internet goes down – Yup lifesaver!
To-Do List
I am a real visual person so I love that all of my tasks that need to be completed are there right in front of me. You can have lists or boards and because I am visual I love the boards of each client, and then I use lists when it comes to my tasks so I just move them around if I am a head of myself. I do have a lot of things in there like what uniforms the kids have to wear on the right days. All my clients work gets allocated their own specific board for a project and everything and I mean everything goes in there. I then move them over to my completed section when I have finished with it. So I know what I have done and what there is left to do. Also, if you client wants to see what you are up to or wants to know where you are on a project, they can look at their board or lists and see exactly where you are or put in a task that I need complete. Game Changer!
Notes
Asana, as I said before is like my desk diary and my ideas notebook that I have next to the couch, when I think of things I write them in my notebook, I use it exactly the same way, if I am talking to client and we think of something really cool then it does straight in the notes.  I also do this for my opt-ins, posts (Content), what days and themes there are and Blogs. I love this because I have left a notebook at the café once and I thought I had lost my whole world.
Project Tasks Not Missed
In Asana I have my onboarding process written in there so I know what I have to send the client. I do a simple copy and paste as then I don't have to think about every onboard what I need from each client. So this way I know I am going to forget to ask them for their hex codes for instance (not that I would).
For instance, the everything I write there is set as a task in the process, to upload them, make sure there is a suitable graphic etc.. and what I need to do with it ie post it to facebook, what theme it is going in, on what day – did I say I loved it?
Facebook Groups and Theme Days
I also love the fact that Asana tells me and reminds me to get thinking about what I am going to do for this week's #promos in my social groups.   Asana also lets me know which day is on ie #promowednesday or #askforhelpday falls in each group -Yep, got that sorted too, it makes me accountable for my content and consistency.  I don't have to go in and out of each group every day to see what theme day it is or which group I am actually in.
Asana has all the features that I need for my business and the best part about it is that it keeps me organised for free, like all my programs, however if I do expand or I need to get more than 15 users involved in my business, I would without a doubt look at the paid versions. There is Asana Premium, Business and Enterprise. These paid versions have added extras like unlimited members, admin control, private tasks for members, reporting and so much more.
People often say, that Asana can be overwhelming at first, but if you give it a go and use it to keep in touch with clients you will soon see the benefits of how it is a true game changer. Please check Asana out. Asana the pain staking bits of paper you have lying around your office and on your desk and puts them into yours, your team's and client's grand plans for projects. And you can even get the app on your phone so you will never be caught by surprise!
These are the reasons why I love Asana and I highly recommend you have it in your business. It doesn't matter how big or small – everyone is going to love it and it is so easy to use – Bonus!
Donna Marks
My name is Donna Marks, I am the owner of The Virtual Assistant.  I help entrepreneurs and small business to create success fast! In my business I work as your sidekick behind the scenes developing strategies for your business to reach their goals with social media, email marketing and business administration so you can get back to doing the tasks you need to be successful.