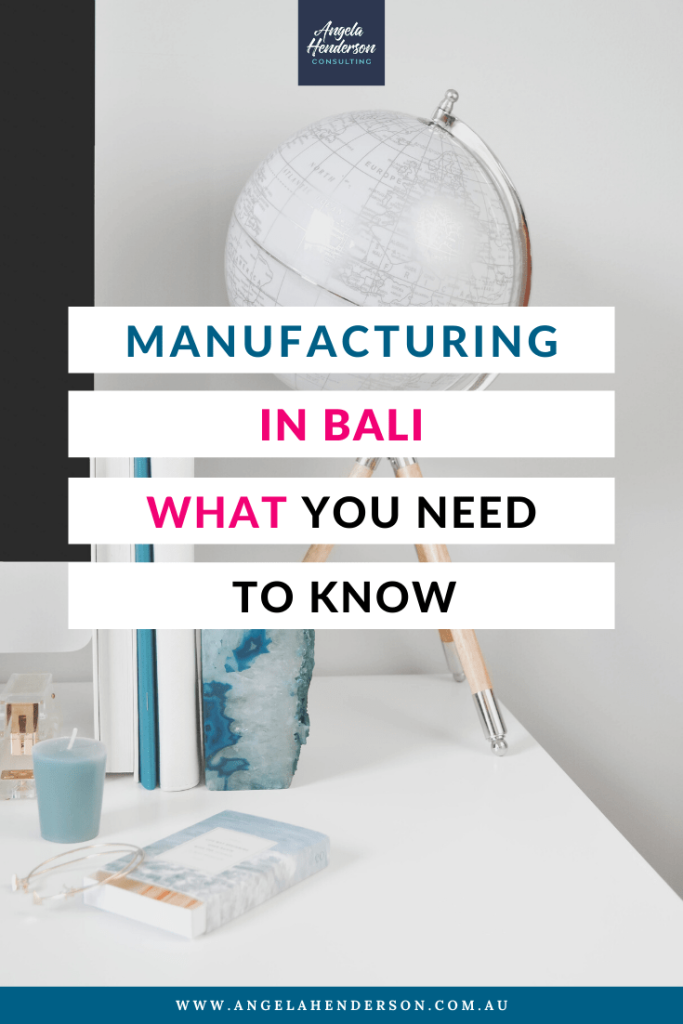 Manufacturing in Bali is something so many business owners are interested in, but yet don't know where to start, are confused, overwhelmed and scared about taking this leap.
I'm a business coach, not a guru in manufacturing in Bali, so I asked Cecile from Ethical Sourcing Bali to write a guest post to help all of those wanting to start manufacturing in Bali.
Manufacturing in Bali
Me and my partner Angga started sourcing for our own accessories label, First of June, in January 2017. After a long journey and comparing many manufacturers, we found our match in Yogyakarta, Java for our first production. Since then, we have done a lot of sourcing in Indonesia, both for our own brand and for others, and eventually in February 2018 we launched Ethical Sourcing Bali.

Angga was born in Bali and has lived here most of his life. I was born in the Netherlands but have lived in Bali since 2013. So both of us know Bali, the people, the language and the culture quite well. But still, when we first started working on productions for our own label and also assisted other entrepreneurs with the productions for their brands, we found that we had to face quite some challenges. And definitely not everything did go as planned. In this blog I would like to share with you about the lessons we learned along the way, why I still think Bali is a great place for manufacturing, and some tips to overcome the challenges you will face when manufacturing in Bali.

Why Manufacture In Bali
So you're asking "why Bali"? One of the biggest advantages of Bali over for example China or India are the low MOQs (Minimal Order Quantity). Garment manufacturing can start from MOQs as low as 12 pieces per style. Jewelry production can be done with an MOQ of 10 pieces per style. For homewares also the MOQ will be 10 pieces in most cases. This is very interesting for start-ups, because this way they will get the chance to test their product before producing big numbers. And also we see many established brands that are looking to create unique, handmade, limited edition products and be able to often add new styles to their collections, rather than doing mass production of one certain product. Therefore, the low MOQs come in handy for them as well.
Next to that, many people are attracted to the handmade styles and natural materials used in Bali. I don't have the exact numbers, but from my observations I would say that about 85% of all the products made in Bali are made by hand. The artisans have often learned their skills from their parents and grandparents and you can feel that the products are made with a lot of love and passion. As an entrepreneur you are putting a lot of time, effort and passion into your brand and it is nice to work with people who share the passion for their crafts.
And last (but just as important), I would say a reason to manufacture in Bali is the quality of the products. There is a great amount of experience and incredible skills available on the island, and the quality of the products is usually very high. Of course, there are differences between different manufacturers, but overall the quality is very good.

The Challenges When Manufacturing in Bali
So low MOQs, passionate and very talented artisans and high-quality products. Sounds perfect, right? There are however some challenges too when manufacturing in Bali.
The number one challenge is definitely communication. Many manufacturers or artisans in Bali speak little to no English. And even when they do speak English, communication often is an issue. I will give you some examples:

A designer has asked a manufacturer how long it would take to produce her new swimwear collection. The manufacturer has advised that the production would take one month. The designer then places an order and expects the production to be ready after one month. The manufacturer however does indeed need one month time to make the products, but this is when they have all the needed materials. The requested material needs to be imported and it takes three weeks for it to arrive in Bali. So then, when the designer follows-up about the production after one month, the manufacturer has only just started working on it and it is not yet finished. The customer will be unhappy, because her timeline is now messed up. This problem could have been avoided if the whole process would have been communicated clearly to the customer, because she would then have known beforehand how long the actual process would take and she could have based her timeline on this information.
A store owner who has been selling other brands in her stores, would now like to create her own products to add to the collection in her store. She found some pictures of products that she likes and presents these to the manufacturer together with some comments on how she would like to modify them. She then asks the manufacturer "can you create these products?". The manufacturer confirms that he can. To create the products exactly to the wishes of the client though, he would need some more details like measurements and details about the material. He is afraid that if he asks too many questions, the client will question his ability and not go through with the order. So he stays quiet and tries to create the products from only the picture that was provided. The sample turns out different from what the customer expected and a few more samples are needed to get it right. The customer will be unhappy because she needs to pay for each round of samples and the process is taking much longer than she expected. This problem could have been avoided by clear communication at the start where the customer had provided more details about the design and the manufacturer had clearly expressed what he needed to know.
These are only two of many examples of what can go wrong because of communication issues. As I said before, it is not only about language, but it is also about both parties understanding how to communicate in a way that is culturally polite and effective.

The other challenge that you will be facing is meeting deadlines. Unfortunately, it often happens that deadlines are not met. Sometimes there are reasons for this that really cannot be influenced (a machine that broke down, imported material that was hold in customs, etc), but more often it is due to poor time management. Many artisans in Bali are super talented in what they do, but often they have not learned how to do marketing or how to plan different productions. The solution for this problem would be to discuss the whole process in detail at the start of the project and then during the process be in touch a lot to see if everything is going as planned. It does not help however if the manufacturer feels like he is being checked all the time and not being trusted, so back to the first point I made, it is important to follow-up in a way that is culturally appropriate and effective.

Then, another challenge specifically for those of you who would like to produce garments. Indonesia does not produce as much fabrics as India or China. At fabric suppliers in Bali you will find fabrics that mostly are made in Java or imported from India or China. This means that the choices are limited, compared to when you would be sourcing for fabric in India or China, especially when you are looking for printed fabrics. Some people choose to source fabrics in other countries and then have those imported to Bali for production. Another solution would be to work with fabrics that are available in Bali, and have them printed with your own print (this way your designs will be unique too!). There are many options for textile printing and/or dyeing in Bali.

Three Tips for Manufacturing in Bali
My top three tips when working with manufacturers and/or artisans in Bali would be as follows:
Learn and understand about the production process. When you know what is involved, you will also understand what challenges your manufacturer faces during the production and anticipate on this in your concepts/designs.
When working with a manufacturer or artisan who does not speak too much English, use a lot of pictures and drawings. Talk about what you do want, don't show pictures of what you do not want. It has proven to be very confusing when customers added pictures of constructions that they did not want in their designs, to explain their wishes to the manufacturer. Often the manufacturer will understand this as an extra order and make both the design as you would like it together with also a version as the pictures you showed of how you would not like it.
Don't be afraid to get help. As a small business-owner you are expected to be good at everything, you need to develop the concepts, source manufacturers, control your production process, do marketing, administration and customer service. It can save you time (and money) if you find the right people to help you with certain tasks.
Ethical Sourcing Bali
The last tip brings me to our own agency, Ethical Sourcing Bali. Now that we're discussing manufacturing in Bali, I might as well mention what we could do for you.
With our small team we are based in Bali and work to connect entrepreneurs/designers to manufacturers. Our service can stop after we have introduced you to the manufacturer, or we can continue to control the sample making and/or production process and also help with organizing shipping, packaging, labels, photoshoots, etc. We can organize a sourcing tour and invite you to visit manufacturers if you come to Bali, or we can manage your production in Bali while you are not here.
We like to think that we will get the best results when everybody focuses on what they do best: you will create concepts and market them, the manufacturer will create the products, and we work to make sure you and your manufacturer understand each other well and help to create realistic timelines. As brand owners ourselves and with our experience in sourcing and producing in Bali/Indonesia we know the challenges and how to deal with them.

What makes us different from other sourcing agencies is that we value transparency. We find it very important that our clients know which manufacturers or artisans are involved within their production chain. Firstly, because this will make it easier to solve problems in the process and secondly, because we want you to have the opportunity to educate your customers about the processes that go behind the making of each product you sell.
To protect our independent status and the transparency we never add to the prices of the manufacturers we work with, nor do we ever accept any commissions. We do instead charge a separate fee for our services. This way you will know exactly what the costs are of every step within your production process. Next to the costs we will also help you to understand the processes that go behind the production and think with you as a team to find solutions for your manufacturing wishes.
Moreover, last but certainly not least, we check each manufacturer we work with to see if their working conditions meet our standard. Since there is no universal standard of how to measure 'ethical', we take the Indonesian law as a guideline and check if each manufacturer is treating their manufacturers as they should according to the law. We do then provide our clients with a report of our findings.

I hope the information and tips I have shared with you so far have been helpful. Please feel free to get in touch if you would like to discuss any of the above. I will be very happy to hear your thoughts and/or answer your questions!
About the Author
Cecile Schimmel and her husband are leaders in manufacturing in Bali. With a true understanding of the local culture, mixed with the needs of their international clients they've created a robust process and support system to help businesses get manufacturing in Bali set up in a fast, affordable and reliable way.
Contact:
Website: www.ethicalsourcingbali.com
Email: info@ethicalsourcingbali.com
Instagram: @ethicalsourcingbali
Where to from here
Getting ready to manufacturer overseas needs a lot of strategy for both your short and long term growth. If you're feeling stuck, overwhelmed and working IN your business and don't have the clarity, strategy and systems in place it's still going to be tricky to fully grow the sustainable and profitable business you want.
If you're no longer wanting to try and figure everything out on your own in business and are wanting to get some advice from someone who has created not 1 but 2 successful business then I'd love to hop on a free 30-minute discovery call. We can chat about your goals, struggles and how I can help you in the role of your business consultant/coach. BOOK YOUR CALL HERE.