As a small business coach for women, I'm often asked how to grow a small business on Instagram. I always have the same answer. If you want to succeed on Instagram you need a strategy, just like you need a strategy if you want to succeed in business. Without it, you're not going to see much traction.
Sorry to break it to you but succeeding on Instagram is not about getting more likes and a bigger following than your competitors. It's about building a community, growing relationships and treating people as if they are people, not just followers.
Instagram is a great place to grow your small businesses, as long as you know your stuff. Here are the fundamentals you need if you want to learn how to grow a small business on Instagram.
Learn How to Grow a Small Business on Instagram
Know Your Brand and Your Audience
The thing that so many business owners get wrong on Instagram is posting without a strategy. They go as far as setting up their account, then throw up some posts with no plan and hope that it will lead to growth. This method isn't going to get you results.
Before you do anything, you need to know your brand and target audience. Your audience's likes and behaviours on Instagram will be what you can base your strategy on. Ensure that all of your posts are not only true to your brand and values but also are something that your target audience wants to see.
Post For Engagement
You want your Instagram to be full of more than pretty posts that get a glance at most before your target audience scrolls on. You need your posts to be engaging. Make your content relatable and draw your audience in with your captions. Tell a story, ask them questions, and encourage their input.
Don't forget that engagement is a two-way street! You need to build relationships with your audience and stay engaged yourself. That means answering comments, replying to your DM's, and engaging with other profiles on Instagram by commenting on their posts and striking up conversations.
The algorithm loves this kind of engagement. By fostering as much engagement on Instagram as possible, the algorithm will start to notice these patterns, which is good news for your profile.
Find Your Hashtags
If you don't use hashtags on your Instagram posts, it's time you start. Whether it's because they find them irritating or just have no idea how to use them, hashtags are massively underused by small business owners. Hashtags are what will direct your target audience to your page, allowing you to reach new followers.
The key to finding good hashtags is research. Familiarise yourself with hashtags, search relevant terms to your content, and have a look at what hashtags your competitors are using. Try to choose hashtags that are niche, because hashtags that are too popular will give you barely any screen time before you get pushed out by newer posts.
How many hashtags you use on each post is up to you. Instagram allows 30 hashtags per post, but some people find this spammy. I personally choose to use as many hashtags as possible, but I post the bulk of them in the first comment to avoid looking spammy and detracting from my caption. To start, I recommend you get a solid list of hashtags that align with your content and cycle them through for each post, choosing the 30 that best relate to that specific piece of content.
Call Them to Action
This is a simple step that so many small business owners completely forget to do on Instagram. Call your new audience to action.
What is the point of having a thriving business Instagram with an awesome community if that doesn't then convert to sales for your business? You need to give your Instagram community a way to connect to your business. The easiest way to do this is to create a call to action in your bio that includes links to your business and socials. While Instagram only allows one link in your bio, you can link to Linktree which will house up to five links for you.
To go a step further, include calls to action in all of your post captions where appropriate. While your links won't actually by hyperlinked in your captions, you can always direct readers to your bio.
Know When To Post
Lastly, you need to know when to post for your audience. If you just start posting randomly on Instagram, your audience won't even see you. Use the tracking tools that come with a business profile to find out when your target audience is online and keep a consistent posting schedule based on your data.
Are you looking for the basics to setting your Instagram profile up for business success? Check out my eight steps toward Using your Instagram for Business Growth.
Where to From Here – $27 Instagram Course for Business Owners – 8 Modules + 4 Bonuses = Awesome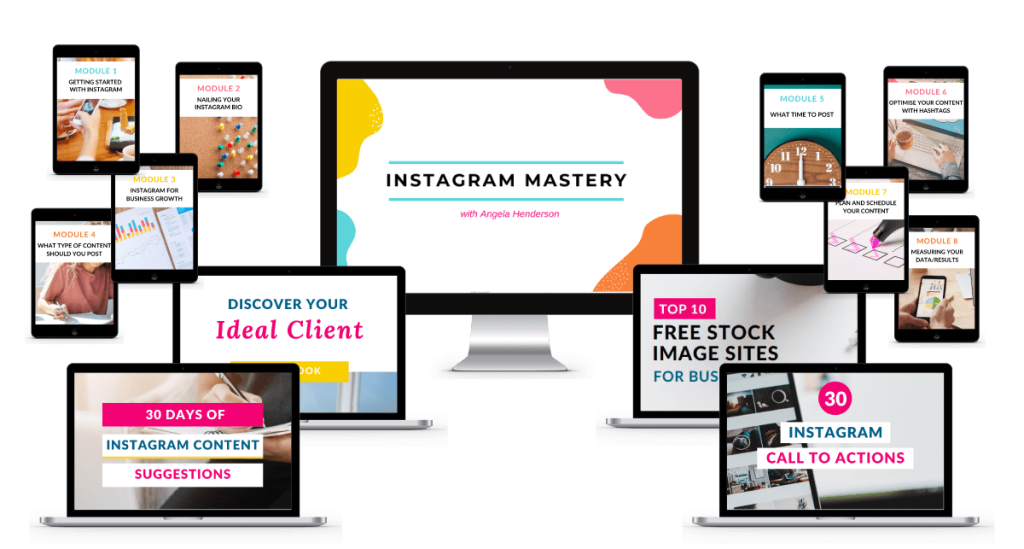 Need help mastering your Instagram?
I have created an in-depth, step-by-step guide to growing your business with Instagram. Access my Instagram Mastery for Business Owners Course to discover how to use Instagram for business, how you can implement all of the above tips, and more.
For just $27 you will gain access to
eight video modules
42 page workbook
4 amazing bonuses
You don't want to miss out on this amazing offer.
Have an awesome day and I look forward to supporting you with your business and Instagram strategy,
Ange