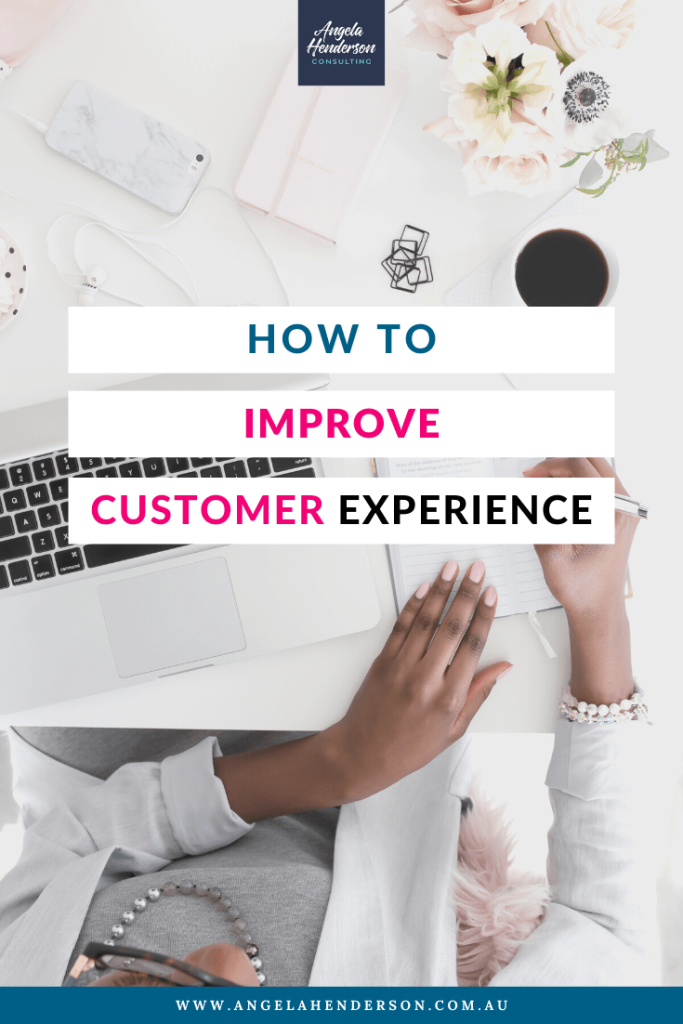 When it comes to running a small business, the relationship you have with your customers or clients is one of the most crucial things to put your time and effort into. To do this you need to focus not only on improving customer experience but on the element of human to human marketing in your business.
Human to human marketing pertains to the experience and interaction one has with a personal brand. With every step to improve your customer experience, you will be strengthening the human to human connection that is so important when it comes to making a personal impact with your brand.
In the decade that I've been in business, I've found that when you improve customer experience you not only feel good, but your clients stay with you longer. They are also more likely to talk about you and market you, which can be a brilliant free marketing strategy.
6 Ways to Improve Customer Experience
Personal Attention
I personally call every new one-on-one consulting client, every 12-month group coaching client, and anyone that comes to my retreat. This shocks people so much that I have even had clients accuse me of being an imposter on the phone.
You wouldn't believe how much people value a quick phone call. It usually doesn't even eat up too much of your time because most people don't answer their phones anymore anyway. Even so, they do value a thoughtful voice message. It shows that you care enough to give them personal attention.
Meaningful Gifts
Another thing I do for my new clients is I send each of them a personalised business sign. This isn't just a nice gesture, it's a well thought out customer experience strategy for my coaching clients. I know that a lot of my clients have imposter syndrome, and a sign stating the validity of their business can help them believe in themselves.
Small Touches
Whenever I run an event, I go all-out with the small touches. At my retreat, which is Australia's leading 4 day/3night women in business retreat, I have personalised cookies, gifts, and take-homes for everyone there. I also make signs, put out flowers, and so much more to make the event feel special. These simple and aesthetically pleasing small touches make everyone feel personally valued. They also jump at the chance to take photos for their social media, which means free marketing.
A Personal Touch
If you sell products, handwritten notes are the perfect way to add a personal touch. Whether it be to new customers, repeat customers, or in a special or limited line of products, a small note of thanks will leave an impression on your customer.
Being Available
Be careful with this one! Being too available can quickly become a slippery slope of never-ending emails eating up all your time. In saying that, there is value in providing a designated space where people can frequently interact with you. The way I do this is through my Facebook group, the Australian Business Collaborative.
The best part about being available through a Facebook group is that, even if you can't reply to everything, you are creating a space where the other members of the group will reply for you. It provides value and shows that you care about every one of your clients and potential clients, without eating up hours of each day.
Providing Community
After my retreats and events are over, I don't want the community and experience that we created to end there. That's why I happily organise catch up calls and events, keep the Facebook pages to the events open, and encourage everyone to stay in touch. Providing this sense of community improves customer experience by proving to the people who attend my events that they are all valued, beyond the event itself.
Every business is unique, so the way you improve your customer experience will be different from how I do it. All you have to do is make sure your customers want what you're giving them. Show them how much you value them and you will achieve that human to human connection.
If you want to learn more about customer experience, check out the podcast I did with Leanne Webber: Customer Experience and Why Your Business Needs It.
Have an awesome day,
Ange