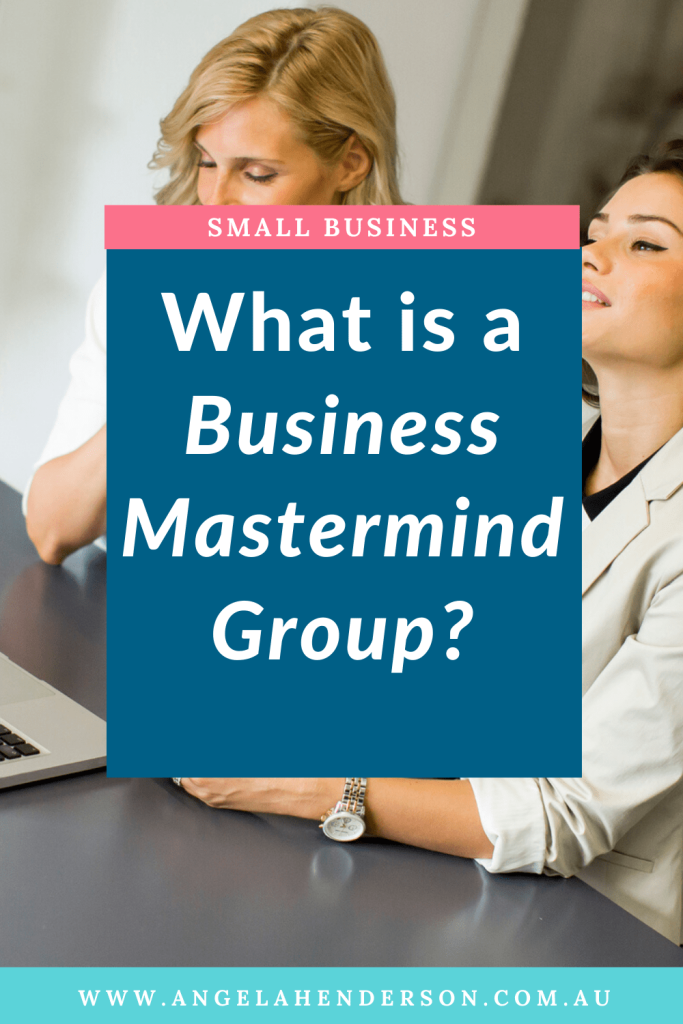 Do you ever feel alone in business? I completely understand. When you're building your own brand and working for yourself, it can be easy to fall into the mindset that you're all alone out there, which is a scary thought. It leaves everything up to you. There is nobody there to hold your hand and show you the way, to ask for advice, or to go to for help.
Running your own business can definitely be a solo gig, but the good news is that it doesn't have to be. The tricky part is that you don't have a team automatically surrounding you. Instead, you're going to have to go out and find your people. Joining a business mastermind group is a great way to do this. What is a business mastermind group? Let me explain.
What Is a Business Mastermind Group?
A business mastermind group is a group of business owners who get together to brainstorm and support one another. It's usually led by a coach or mentor who has vast experience that they would like to impart onto fellow business owners. The idea is that your mastermind should be a safe space to ask for advice, guidance, and ideas that will lead to business growth.
What To Expect
Like so many things, business mastermind groups come in all different shapes and sizes. They can range from super informal meetings between business friends where you chat about business struggles and goals, to structured online groups that almost resemble courses. They don't follow one formula, and different types of masterminds will suit different types of business owners.
Business masterminds also vary in price. Some are free, and these are the unorganised social ones that are ultimately just for connection and support. Others that have more structure can be thousands of dollars, and often times you get what you pay for.
Why Do You Need a Business Mastermind Group?
There are so many reasons why you might want to join a women's business mastermind group. Having a group of business owners to bounce ideas off of will almost always help your business grow. It's also a great opportunity to network, a safe space to analyse your failures and celebrate wins, and one of the only spaces in business where you'll get honest feedback.
How To Find The Perfect Mastermind For You
The perfect mastermind for you will depend on what you want to get out of it. Do you need structure and guidance? Are you just looking for a chinwag to remind you that you aren't alone? I recommend reaching out to local business owners, coaches, and mentors that you admire. Chances are they run their own mastermind or are part of one.
Where To From Here
Ready to join your first business mastermind? If you're looking for connection, one-on-one support, and a roadmap to your business goals, I recommend my own business mastermind:
Action Takers Mastermind for Women in Business
Action Takers mastermind is perfect if you're looking for a mastermind that will help your business thrive.
Take part in a one-on-one strategy session to give you clarity and strategy. From there, participate in online hot seat sessions, connect with other business owners in the Action Takers mastermind Facebook group, and experience individualised support to help you reach your goals.
I ensure that my mastermind is capped at a certain number of amazing women who all have something to add to the conversation. This way I can ensure no voices get lost and everyone receives the experience they're after. The mastermind then culminates with a live event to connect face-to-face with this awesome group of women.
Interested in joining my 5-month, supportive and goal-focused mastermind group?
If you're still asking yourself 'what is a business mastermind group?', check out my blog How a Business Mastermind Group is Your Secret Weapon For Small Business Success, or have a listen to my podcast episode The Power of Joining a Business Mastermind.
I look forward to supporting you in my Action Takers Business Mastermind Group.
Have an awesome day,
Ange