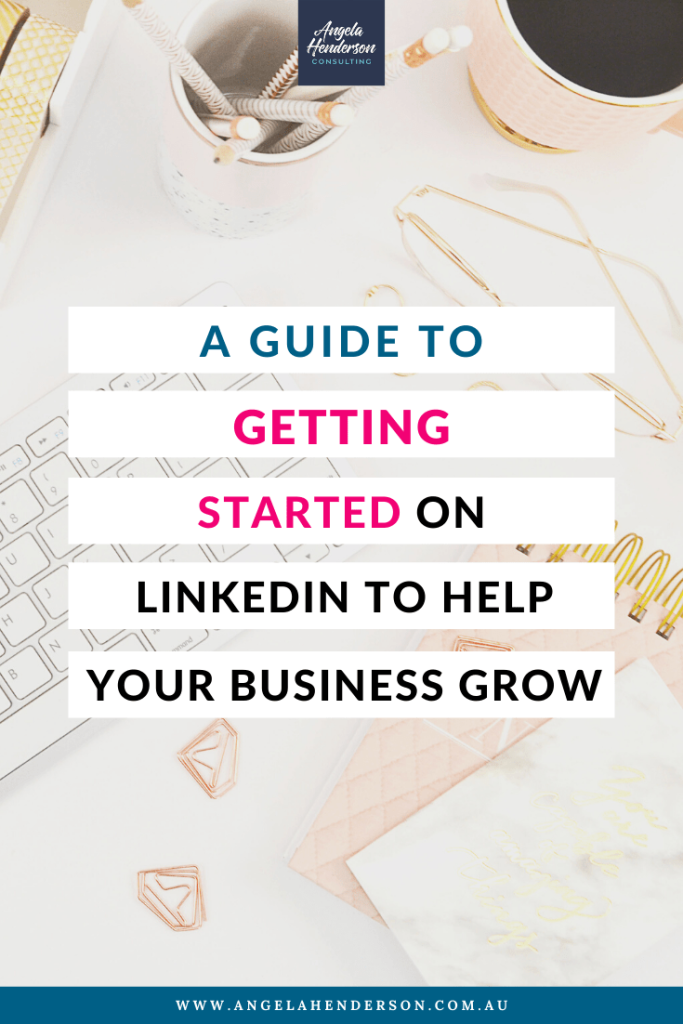 For most, LinkedIn is a place for people who are looking for a new career and a place for recruiters to search for those people however what a lot of people – particularly small business owners – don't realise is, that it is a great place to network with potential clients.  Getting started on LinkedIn is a wonderful way for you to grow your business, so here's my latest Linked in guide to get you started.

Why should I be Using LinkedIn?
With millions of professionals in every industry imaginable owning a LinkedIn account, it's the perfect platform to showcase your skills and connect with the people you want to work with directly, without having to cold call or cold email.
To help you build your business and grow your professional network using LinkedIn, I thought I'd give you a quick guide to getting started.
Getting Started on LinkedIn and Optimising your Profile
There a number of different things that you can do to optimise your profile and help you getting started on Linkedin. The first thing you need to do in order to get noticed by people in your industry, is optimise your profile.
Whether you're just starting out or building on an existing profile, this is the best place to start.
Create a Vanity URL
When you set up your LinkedIn profile you will be assigned a random group of numbers that will appear in your profile link. There is an option available to change this link and it's definitely something you should consider for a number of different reasons.
It's easier for you to share your link
It helps your profile appear in search engines
It keeps in line with your business and branding
Whether you use your business name or your own name, changing your vanity URL is a must.
Update your Image and Header
Continuing on with branding, changing your profile image and header to match your other social media profiles will help make sure you're instantly recognisable, as well as give your profile a professional and well-kept look.
Think about SEO
When completing your profile it's important to think about SEO in order to help your profile appear in the relevant google searches. As LinkedIn has a high domain authority it often appears above other sites, so optimising your page could help your appear higher up when it comes to your keywords.
Use them in your header, your summary and your work history for the most optimum effects.
Add a Basic Headline and your Location
One of the first things you do when setting up your LinkedIn profile is add in your name, location, a basic headline and a summary – but have you optimised these for your business? Common practice for a lot of people is to use the automatic filler that allows your basic headline to display your current position. However, as this area is fully customisable using this small space to shout about what you do best is a great way to give people a good first impression.
Add a Summary to your Profile
Underneath your location and basic headline, there is a place for you to add a summary of you and your business. This is one of the first things people see and since filling this section out, people can now clearly see what it is I do and how to get in touch with me.
The key to getting your summary right it to detail who you are, what your business does, what you can do to help someone and how they should get in touch with you. Keep it short and simple.
Update your Work History
Although this may seem irrelevant to your current business, an updated profile with all your previous work experience not only looks professional, but allows people to see any other skills you may have gained in past positions.
Fill in the Remaining Sections (that are relevant to you)
There are a lot of different sections to fill out on your LinkedIn profile and although it may seem time consuming, filling them in can be really beneficial to you and your business. Sections include your industry and location, your current and past employment, your education, your skills and any awards you may have won.
Who should I connect with, and where do I find them?
Now that you have optimised your profile to show off your skills and what your business does, you should start connecting with the type of people you think could be a potential client, or that could help you connect with potential clients.
Using the LinkedIn search bar, search for people directly using their name or search for job roles that your ideal clients would be in and connect to them to start conversation. With a Premium account you can connect to anyone, however if you can't afford the price tag then you will only be able to connect to people in your 1st and 2nd LinkedIn circles.
What should I do once I have connected to potential customers and clients?
Once you have connected to people that you think you may be able to work with on a professional level you can either reach out to them directly, or continue to post relevant content that will draw their attention to your services. Both have their strong points, however I have found that using InMail to get in touch with people I know would benefit from my services has been the most effective way of gaining new clients.
With so many opportunities and possibilities for business on LinkedIn, getting started on LinkedIn has never been easier, so what are you waiting for?

Wishing you all an awesome week,
Angela
Angela is a business consultant,  entrepreneur, Netflix blogger, author, mental health clinician and most importantly a mother. Connect with her in her Facebook Group, Facebook Page, Instagram, Linked In and her website Angela Henderson Consulting.
Book In for Your FREE 30 Minute Discovery Call
If you're ready to take the next step, you have the desire to work smarter not harder and you're financially prepared to pay to work with a business consultant I would love to connect with you for a free 30 minute Zoom call where we'll talk about your struggles, goals for the year, explore some strategic point and explore at the end how I can help you in my role as a business consultant.
Click on below on the image to book in for your 30 minute Zoom call.