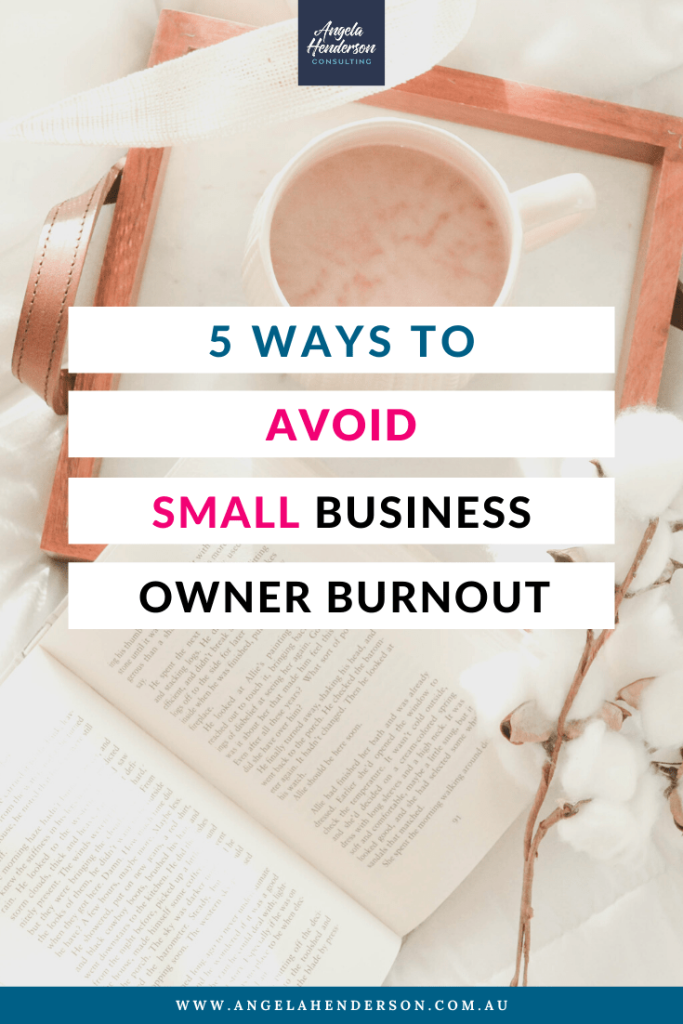 Burning out is a common issue for many small business owners. Because we tend to pour our heart and soul into our businesses, the constant work and emotional investment can cause small business owner burnout. If you're experiencing burnout or are struggling to maintain a healthy flow and balance in your business, check out these five tips to help you avoid burnout.

How to Avoid Small Business Owner Burnout

Get Organised
Before you do anything, it's time to get organised. Sorting out both your physical space and online systems will cut through the chaos and make everything more manageable. Make sure that everything has its own place and every process has its own system. This will give you a clear path to follow with all upcoming tasks, requiring less mental gymnastics that cause small business owner burnout.

Scheduling
Once you have your systems in place and have organised your workspace, it's time to schedule everything – and I mean everything! Burnout is often the result of tackling task after task and feeling as if it never ends, which is exhausting. By scheduling out every single little thing you have to do in your business, it not only adds structure to your day but paints a clear picture of everything that needs to be done. This allows you to batch together similar work to get it done quicker and prioritise urgent jobs so that important deadlines don't creep up on you.

Outsource
No matter how organised you are, sometimes there is literally not enough time in the day to get everything done. This is where outsourcing will become your saviour. It can be scary relinquishing control and handing the reins over to someone else, but it gives you more time to grow your business and keep control of your mental health and stress levels. Check out our blog about outsourcing your business to get started.

Say No
Being busy to the point of burnout means one of two things. Either your business is growing and thriving, or you are saying yes too often and filling your time with tasks that don't benefit you. The first is a great thing that just needs to be managed, the second is a bad thing that you need to fix. Say it with me – it's okay to say no. Remember that for everything you say yes to, you are automatically saying no to something else by filling that time. Value your worth and time and only say yes to the things that will benefit you.

Take Time To Relax
One of the biggest reasons small business owners are so prone to burn out is because they are working all the time. Without that 9-5 structure, it can be difficult to switch off and differentiate between work time and personal time. You have to schedule time for yourself, whether it be by setting set work hours for your day or just scheduling in an hour to do absolutely no work. At the very least – no more late night emails!

When it comes down to it, avoiding burnout is all about valuing your own time and effort. By organising your space and time and allowing yourself to step back a little bit and enjoy your success you will be able to avoid the dreaded small business owner burnout.

To connect with other small business owners join my Facebook group, the Australian Business Collaborative, and check out another blog article on burnout here.

Where to from here
If you're no longer wanting to try and figure everything out on your own in business and are wanting to get some advice from someone who has created not 1 but 2 successful business then I'd love to hop on a free 30-minute discovery call. We can chat about your goals, struggles and how I can help you in the role of your business consultant/coach. BOOK YOUR CALL HERE.

Have a great day,
Angela