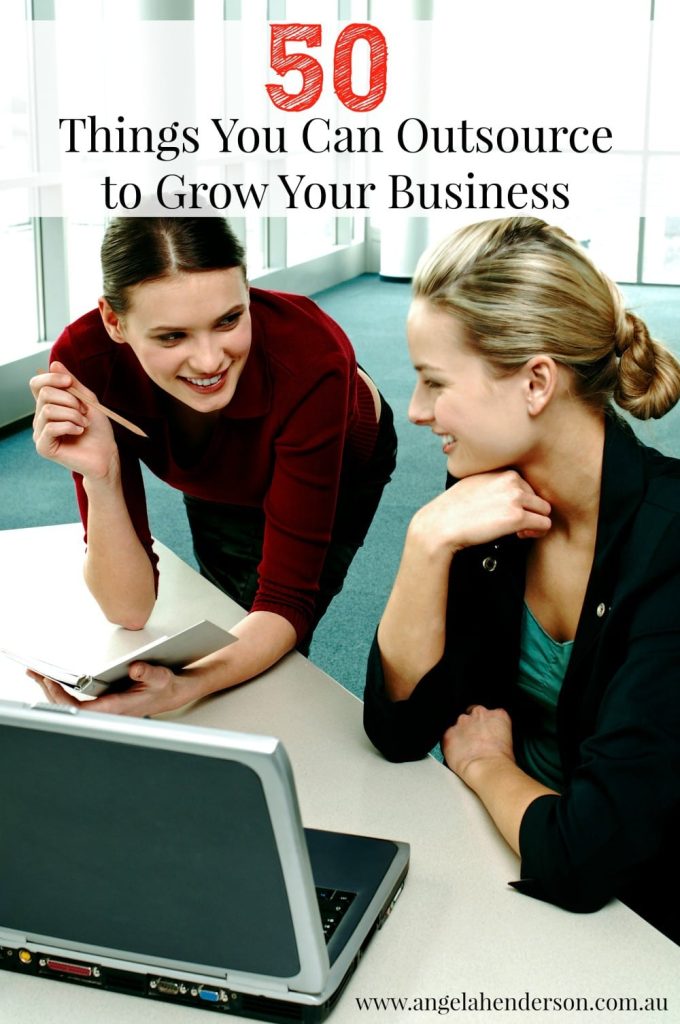 As a business owner and a business consultant, I have daily conversations about the importance of outsourcing. The problem that most of the people I work with come across is that they don't even know where to start because it's simply to overwhelming and as a result they don't do anything. I'm going to discuss in this blog article, the importance of outsourcing for your business and give you a list of 50 things you can outsource to grow your business.
What is Outsourcing?

Not everyone reading this will understand what outsourcing is and how it works, so I want to start by defining this so we're all on the same page. Outsourcing means just what it says — going "out" to find the "source" of what you need. You can't do every job in your business because you're not an expert on everything; it's impossible. And quite frankly if you think you can do everything on your own, you put your business at risk in a variety of ways. The best thing you can do for your business to see it grow is outsource.
Benefits of Outsourcing for Your Business

As an entrepreneur and small business owner it's exhausting trying to deal with the day to day madness of running a business, yet alone the pressure to be on top, keeping up with competitors and needing to look ahead to the future.  Therefore, it's imperative you look at the things you can outsource to grow your business because there are so many benefits.
There are numerous benefits of outsourcing for your business but my top 3 include:
Cost savings  – having to go through the advertising, hiring, training of staff and on top of that pay for their benefits, insurance etc it can be huge financial pressure to businesses. However, when you outsource the only thing you need to worry about is paying the agreed upon hourly wage; everything else is up to them.
Increased efficiency – you'll be able to delegate the tasks you don't like or aren't skilled to do. The tasks you outsource will go to people who are experts in their field and they'll be able to get these tasks done in an efficient and timely manner. Ultimately, this will allow you to focus on areas that you're good at in the business and you too will be a lot more efficient in the way you work.
Growing your business – most people think about the cost savings for their business when they outsource and though this is important it's not the only thing to remember. In fact, most businesses struggle to grow as they don't have the means to hire the staff required to make the business grow and as a results people get stuck doing tasks like admin work (answering emails, phone calls, writing newsletter, payroll etc) vs working on tasks that will bring in leads/sales.
50 Things You Can Outsource to Grow Your Business

I'll be honest there are probably close to 1000 different things you can outsource to grow your business, but I don't want to overwhelm you. What I want is to be able to get you thinking about the things you can outsource that will help your business to flourish.
Here's my list of 50 things you outsource for your business:
Copywriting
Social media (Facebook, Instagram, Twitter)
Graphic design
Newsletter creation
Assisting with launches
Reporting on Google Analytics
App development
Affiliate program management
Advertising (Facebook, Instagram, Magazines)
Blog articles
Editing articles
Uploading articles
Research places to guest post/appear on podcasts
Creation of landing pages
Creating different lead magnets/opt-ins
Creating a marketing plan
Accounting
Photography
Event planning
Travel planning
Creating different surveys for your audience
Secretary duties (checking emails, taking phone calls)
Data entry
Scheduling appointments, meetings etc
Creating office manuals (policies, procedures, guidelines)
Proofreading different documents
Transcribing
Editing audio/video files
Reaching out to influencers
Reaching out for press releases
Manufacturing
Researching new products
Uploading new products to website
Manager sales, refunds and customer service problems
Responding to customers services
Monitoring competitor pricing
Researching networking opportunities
Researching speaking opportunities
Cold calling
Development of E-book
Creation of infographics
Organisation of Google Drive or Dropbox
Register and setup a 1-800 or 1-300 number for your business
Monitor live chat
Follow up non-paying clients
Cleaner
Gardener
Groceries/cook
Where You Can Look to Outsource for Your Business

Depending on your business needs, budget and everything in between will depend on whether you outsource locally or overseas. For example, I have two businesses Finlee and Me and then Angela Henderson Consulting and each of these have different needs. For the Finlee and Me Business, I have 1 Australian VA and 1 VA from the Philippines. My Australian VA I need her on Australian time, I need her to have English as her first language due to the help with editing etc. However, I don't need these requirements to run my social media accounts and my lady from the Philippines does a great job for the tasks I delegated to her.  In addition, the cost is quite different. My Australian VA charges me $35-$40 an hour where as my lady in the Philippines charges me $11 Australian an hour. The way I view things is that, I'm still giving another human being a chance at working, being with her child and making a living and that $11 and hours is a A LOT of money for their country.
If you're wondering where you can look at outsourcing certain tasks these are the top places I look:
Facebook groups such as the Australian Business Collaborative where you can ask other entrepreneurs and small business owners if they can do any of the tasks you need to outsource.
If you're wanting to start exploring things you can outsource to grow your business, then I encourage you to print off my outsourcing exercise below (it's 3 pages of goodness) and start brainstorming what you can outsource for your particular business.
Let me know in the comments what you're wanting to outsource.
Wishing you a delightful day,
Angela
Angela is a business consultant, author, entrepreneur, blogger, mental health clinician and most importantly a mother. She lives in Brisbane, Australia with her two beautiful kids Finlee and Chloe and her husband who is from Tasmania.
Connect with Angela on her active Facebook Group Australian Business Collaborative or via Linked In.