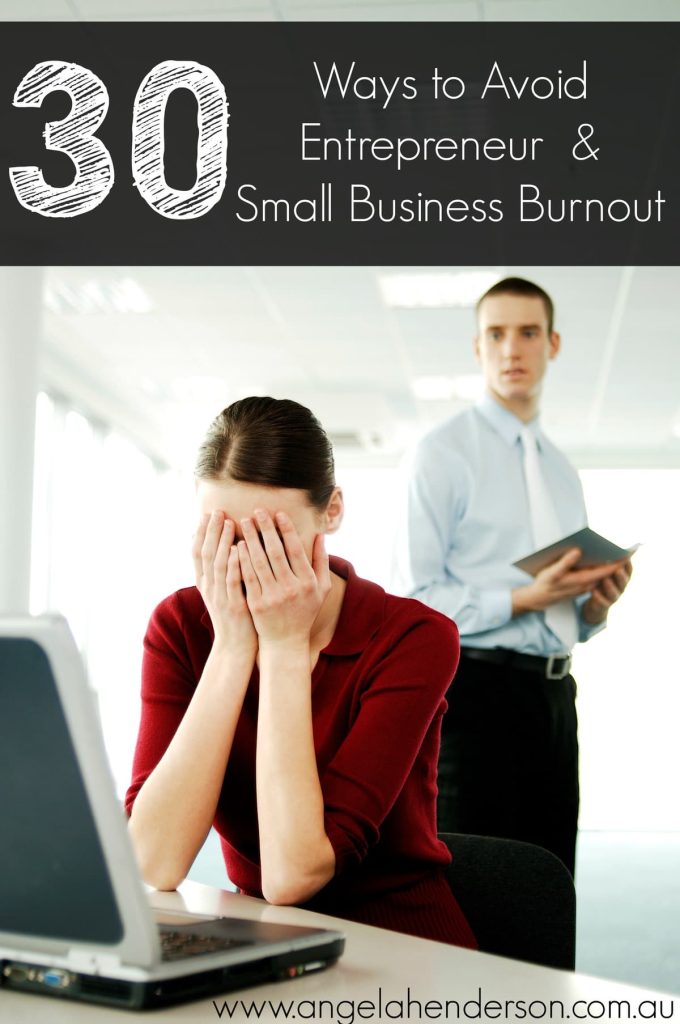 Last October 2016, I hit rock bottom. After running my first business Finlee and Me for the last six years, starting Angela Henderson Consulting, taking care of two small children and also working full time as a mental health clinician it was time to stop. By body, both physically and mentally was done. And though I'm making progress the reality is that I'm still off on medical leave, but I don't want the same thing to happen to you. So this is why I've created this blog post and free printable – 30 Ways to Avoid Entrepreneur and Small Business Burnout.
30 Ways to Avoid Entrepreneur and Small Business Burnout
It's funny how the word "business" comes from the word "busy-ness" because as entrepreneurs and small business owners we are constantly on the go. And more often then not, our businesses can leave us feeling stressed, overwhelmed – making it difficult to stay motivated and inspired.
To run a productive business, spend time with your family and to avoid entrepreneur and small business burnout, try these: 30 Ways to Avoid Entrepreneur and Small Business Burnout.
Give to back to others/community
Stay hydrated
Surround yourself with like-minded people
Go to bed early
Spend time outside
Remember to read
Stay connected with your family and friends
Eat your lunch away from your desk
Participate in some form of exercise
Laugh
Smile
Say no to things you don't want to do
De-clutter your home and work space
Delete negative people from social media
Unsubscribe from email lists
Meditate
Unplug from social media
Put on some music and dance
Write down 10 things your grateful for
Binge watch your favourite TV show on Netflix
Plan a fun weekend away
Play a board game
Take a hot bath or shower
Write a list of things you are thankful for
Take a nap
Write in a journal
Call someone you love
Create positive, love affirmations for yourself
Have a picnic at the park
Treat yourself to a massage
What do you do to avoid burnout, let me know below as I love hearing about other ideas that will help us all grow.
Have an awesome day,
Angela
Angela is an entrepreneur, business consultant, Netflix blogger, author, mental health clinician and most importantly a mother.
Connect with her in her Facebook Group, Facebook Page, Instagram, Linked In and her website Angela Henderson Consulting.
Save