Landing pages are a super-effective marketing tool to help grow your business. They are great for launches and drumming up sales, and can be used to promote nearly anything you have going on in your business, but what about lead pages? Knowing when to use a lead page vs a landing page can make a big difference to your marketing strategy.
First, let's break down what lead pages and landing pages are.
Lead Page vs Landing Page
Landing Page
A landing page is any page your potential customers or clients land on that asks them to do something. This could be to purchase a course, watch a video, join your Facebook group, book in for a discovery call, or anything else you're trying to get them to do to grow your business. Usually, it involves them giving up their time and/or money for something of value.
Lead Page
A lead page is a type of landing page, but it only asks for one thing: emails. Their sole purpose is to gather the names and email addresses of potential clients and customers so that you can add them to your mailing list. The method you use to convince your target market to hand over their email can be anything, from offering a free ebook to a discount code, but the requested information is always the same.
What's the Difference Between a Lead Page and a Landing Page?
The difference is that a lead page is a more specific subset of a landing page. Lead pages are generally shorter, to the point, and don't have to inform or sell to the viewer as much as landing pages do.
The reason for this is that a landing page is usually convincing the viewer to trade something of value for your product or service. This is usually their time, money, or both. Getting someone to hand over their hard-earned cash or precious time can be a difficult thing, which is why you will need more information on the page to close the sale.
Convincing people to hand over their emails, on the other hand, is a lot easier. An email is so easy to give away. If you have an offer that your target audience will value, they will likely type in their email without even thinking about it. This is because it takes very little of their time and none of their money to do so.
You Can't Get Something For Nothing
As metadata becomes more and more valuable, people are starting to see the worth of their own privacy and may be less willing to hand out their email, free of charge. This is why your lead page offer has to be a good one. Ensure you are willing to give your target audience something that they actually want and will benefit from in exchange for their email on your lead page.
Landing Page or Lead Page?
If you're selling a product or service, promoting an event, or asking for anything that will require time and/or money from your target audience, a traditional landing page with sales copy is the way to go. If all you want is to grow your email list, come up with something of value to offer in return and create a short and sharp lead page.
How to Create Landing Pages and Lead Pages
Have no idea where to start? 10XPro is an awesome business management tool that takes care of a lot of systems and processes behind your business, including lead and landing pages. Their landing page software is easy to use and super effective. You can build your own landing or lead page with their drag and drop builder or take a shortcut and use one of the many templates that they offer.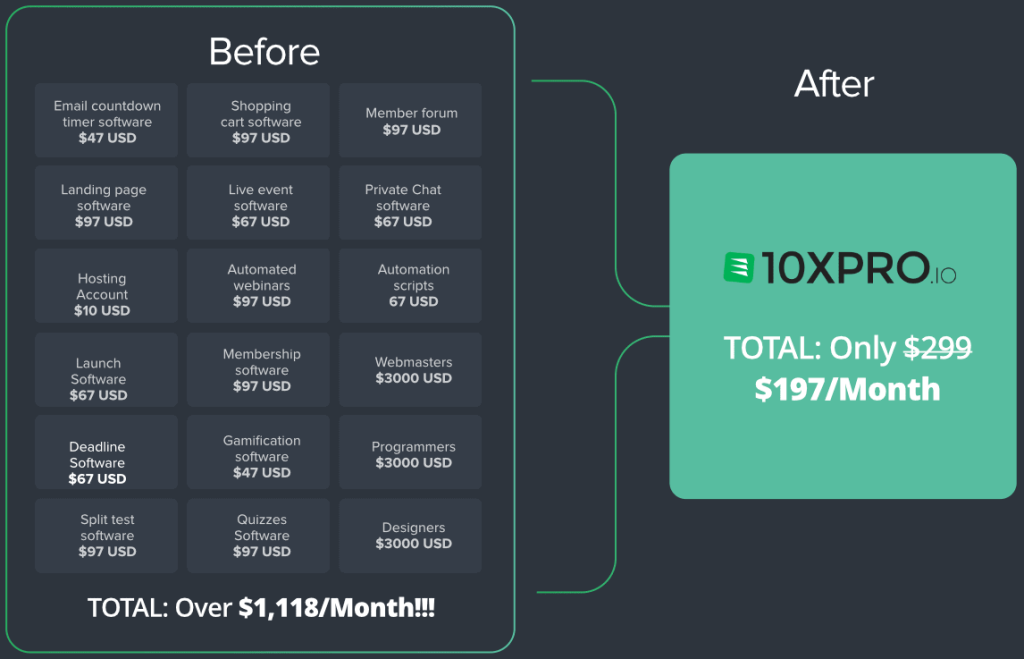 How to Get Started for $1.00 with 10xPro with an Exclusive Offer
As I've been using 10xPro for a while now and love everything about it, I've teamed up with John (the owner) and become an affiliate.
John has created an exclusive offer to my readers and audience to test drive 10xPro for the first 30 days for just $1.00, an exclusive lifetime discount, a bonus strategy session with John himself, a private strategy with me too and so much more.
Sign up for 10xPro today for just $1.00.
Get ready for all levels of awesome and you can thank you me later for all the money you save in your business too.
For more useful blogs, click here.
Have an awesome day,
Ange