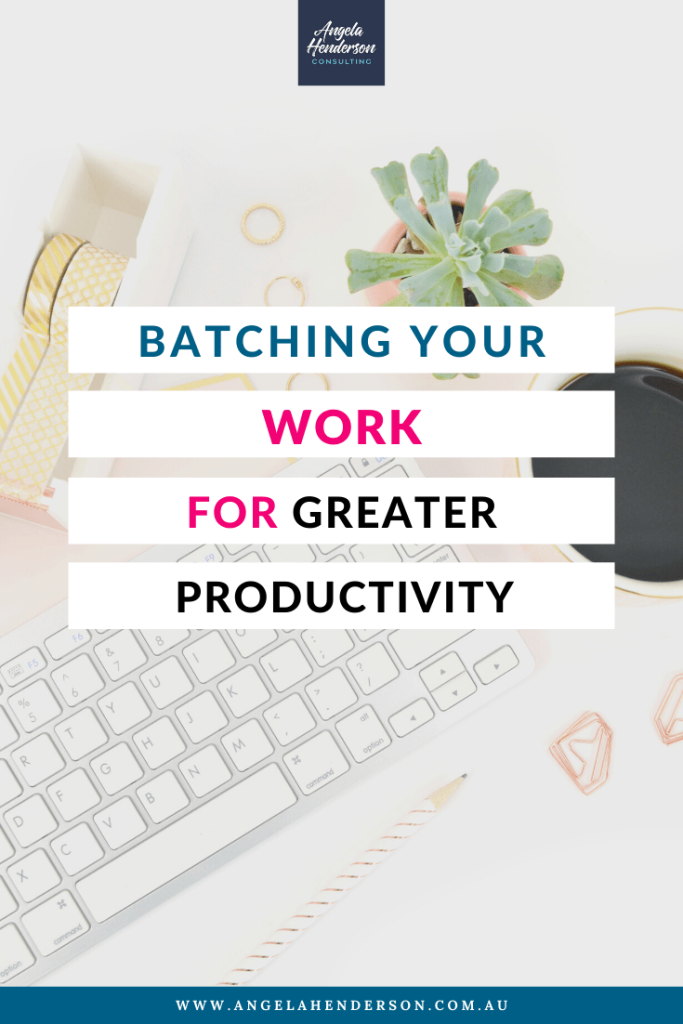 If you're anything like me and time gets the best of you, you'll want to know all about batch working and how it can benefit both you and your business.
The productivity hack could allow you to free up more time to focus on your business, building relationships and your marketing.
What is batch working for your business?
So, what is batch working? Well, effectively it is eliminating the time you spend on similar tasks by grouping them together and doing them at the same time.
By completing them in one sitting you are freeing up your time and mental energy, as it allows you to stay focused on one task at a time, making it much easier to do it all in one go.
The benefits of batch working
It helps save time and improves your focus – first and foremost, batching your work can save an incredible amount of time. Removing the need to keep jumping in and out of work increases your overall productivity as

it can take up to 25 minutes to refocus your brain when coming back to a task

. Understandably when you work in an office it's hard to avoid natural interruptions, but if you work for yourself this simple hack could shave hours off your schedule.
It reduces your daily clutter

– ever have a list of smaller, yet still important jobs that you can't seem to shake? Batching these tasks helps reduce this list, increasing your overall productivity.
Your brain loves batching

– by forcing you to single-task, enter the flow state and reduce stress, batching makes for a

very happy brain

. Our brains aren't designed to multi-task and after years of trying to train them otherwise, it will thank you for a break. Trust me.
How to Batch for your business
The process of batching is pretty simple, so much so, you can start today.
The three steps you need to take are:
Group all your different tasks together so that they are more manageable
Decide which ones would be best to work on first
Complete the tasks in that group before moving on to the next
What can be batched?
It's surprising how many tasks can actually batched in to different groups, so I thought I'd list some of the most common ones.
Your Planning

– Ever sit there surrounding by a pile of plans and notes not knowing where to begin when it comes to structuring it? Haven't we all! With batching you can set aside the time to plan everything in one go, saving you time and giving you that piece of mind that you know exactly how the next few days/weeks/months or even years are going to pan out!

Thinking –

Similar to planning above, if you prefer to schedule in some time to think and brainstorm, batching this could be so much more useful – especially when you don't have to stop and start all the time.

Emails –

If you're anything like me you'll get distracted every time you see

(1)

on your inbox and want to clear it immediately. Instead, if you group all your email related tasks together and do them by batch, you'll find your saving yourself so much time in comparison to going backwards and forwards every half an hour.

Blogging and Content Writing –

When running your own business blogging can be one of those things that takes up a lot of time so you never get round to doing it, despite how important it can be for business growth. Grouping content writing tasks together and getting them done by batch may not only mean you're working on a key marketing strategy for your business, but also saving time while doing it!

Phone calls –

As important as phone calls are, sometimes having to stop what you're doing (especially if you're on a roll) to make a call can mean that your losing vital time while refocusing. Planning calls so that they're all around the same period of time can help prevent this, especially if you're someone who relies on calls for your business.

Reading –

spending time reading for your own personal development is important to any business owner, but finding the time amongst meetings, marketing, working and everything else we have to do can sometimes be impossible.

Grouping these things together could be the solution!

Cooking and Cleaning –

If, like me, you work from home you will still need to find time to keep the house clean and cook for the whole family. With so much going on this can be a hard enough task in itself but if you plan it out and do it in batches, the workload will seem much less and take half the time.
What work could you batch to help make your work life easier?
Have an awesome day,
Angela
Angela is a business consultant, entrepreneur, Netflix blogger, author, mental health clinician and most importantly a mother. Connect with her in her Facebook Group, Facebook Page, Instagram, Linked In and her website Angela Henderson Consulting.
Book In for Your FREE 30 Minute Discovery Call
If you're struggling with what you should be working ON vs IN and you're ready to take the next step, you have the desire to work smarter not harder and you're financially prepared to pay to work with a business consultant I would love to connect with you for a free 30 minute Zoom call where we'll talk about your struggles, goals, and explore at the end how I can help you in my role as a business consultant.
Click on below on the image to book in for your 30 minute Zoom call.