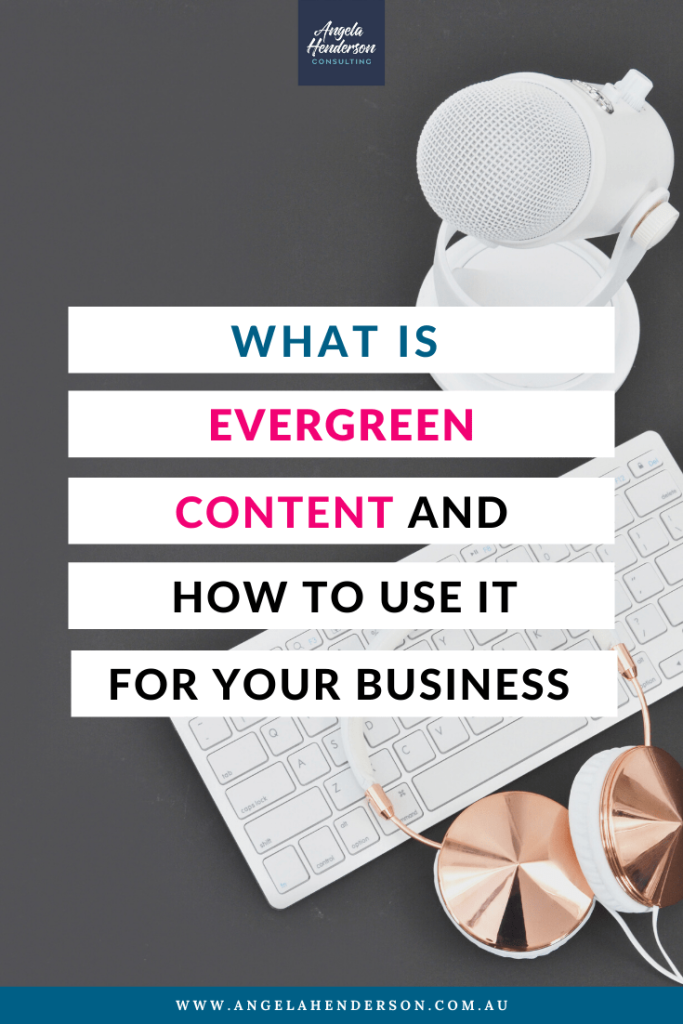 As a business consultant, I often get asked what is evergreen content and do I need it for my business? So I'm super excited that Linda Reed-Enever from Business Business Business has agreed to write this simple, but informative blog article about what is evergreen content and how you can use it for your business.
Revisiting past content and adding a fresh twist!
Producing great content doesn't have to be complicated, in fact many of the topics that business focuses on each year are recurring themes.
All this "evergreen content" can be put to use time and again in different ways through reuse and repurposing.
So let's explore the options of revisiting the past to offer that evergreen content you have already created in new form or way to your audience.
What is Evergreen Content? Where do you find it?
Evergreen content is the type of information that pops up time and again, year after year in business. It's often found in the information your customers seek or the things about your industry you find yourself explaining over and again.
Evergreen content is always fresh – it can be used at any time throughout the year, or is fresh at a certain time, year after year after year.
In a nutshell, it is content that stays relevant to your audience.
So where do you find evergreen content in your business?
Evergreen angles are easier to find than you think. They are hidden within your knowledge, and often they are the things you take for granted for being "known" about your industry.

Evergreen content is:
Your top five tips on a topic
Tips for beginners
Explaining industry terms
Checklists
Infographics
How to use your products or services
Ideas and resources
Best tools for your audience (free and paid are always good)
Things you should know or questions to ask…. (before using a service, for example)
Answering the questions you are being asked by clients. They are your audience, and what they want to know, others will too.
Share your secrets… by giving a secret away, it creates credibility and creates the need to want to know more
Over the course of any year, this evergreen content fills the gap between timely pieces that respond to an event and preemptive content that flags new things you are doing.
And chances are you already have a wealth of content falling into this arena.
Now it comes down to using it to the greatest effect.
How it Can be Reused:
There are a host of ways to reuse and repurpose evergreen content. From drawing on the same themes of a previous blog post and reworking them, to pulling snippets from long posts and turning them into memes, it's all about being creative with the types of content you already have.
For example, you may have created a bank of articles about industry reform over the course of the year. At the end of the year that rolls into a post about major changes in 2018.
You can also separate out the components of longer posts, breaking them into snippet tips. So, you might have created a Facebook and website post back in January last year offering five tips to reinvigorate your outdoor entertaining area. Now you break them into individual tips accompanied by a nice image.
Or, say you've spent the past couple of years writing posts that answer your client's most pressing questions, now you rework that into a piece about the top five secrets every client wants to know.
And, so it goes on…It's all about simplifying your content across media channels by using what you already have.
The key is to know what worked and what failed to attract interest and build on the campaigns that drew the greatest audience.
Use Your Analytics
Every social media page and website has analytic tools that allow you to view the type of engagement that you're getting, and this gives you a wealth of insight into the topics that strike a chord and the others that fall flat. And sometimes the results are surprising.
Keep note of the topics, themes or images that attracted the most engagement from your audience, and consider:
· What is it about it that they liked?
· Can I dive deeper?
· Can I simplify into snippets?
· Can I come at the same content from a slightly different angle?
Don't Forget the Different Mediums
The great thing about evergreen content is the way you can revisit it from different angles and handle it across different mediums.
Say for example, your top 10 tips on major industry breakthroughs attracted lots of commentary and shares.
This might be the perfect topic to discuss in a podcast with other experts. This time rather than a piece being just written by you, other exerts get to weigh in.
Later in the year, you might then look back and compare what people predicted to what came true in a written piece.
The Art of Reuse
Sometimes when you've been creating content about the same business for a long time, it begins to feel repetitive, but don't forget your audience is coming to you with a fresh perspective and often that audience may have changed or grown over the years.
That's why it's invaluable to revisit the past, and use it to keep engaging people on the things that matter to them.
So what will you create in a new form?
About the Author
Linda is known as the marketing and PR go-to girl. Linda helps business owners to connect and share their stories thought media, journalists, community and more through her business: Business Business Business.