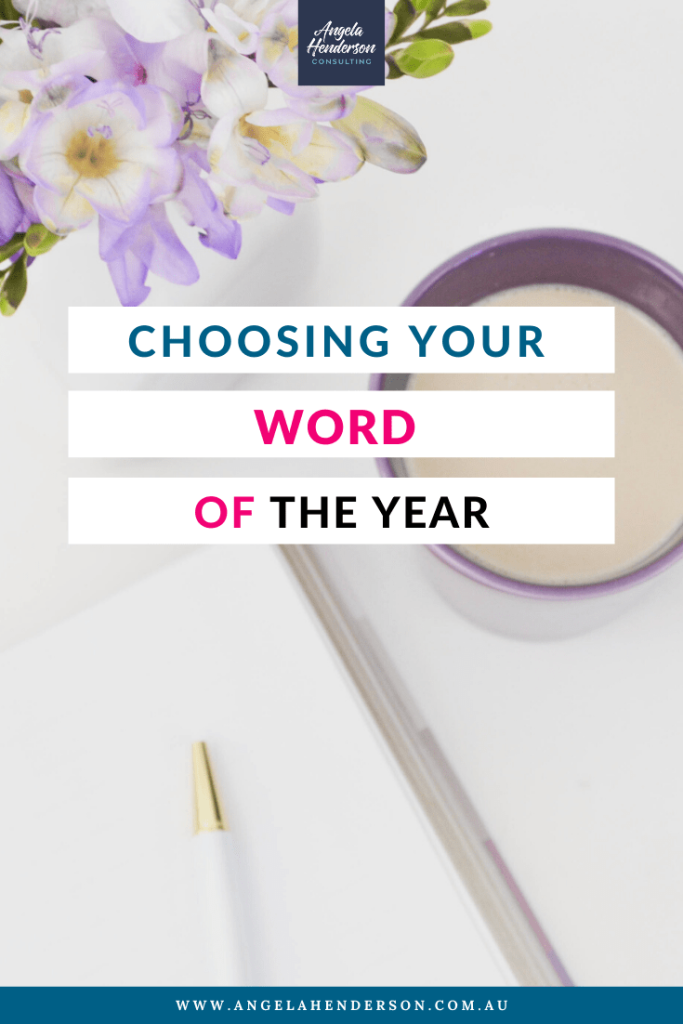 2016 was a bad year for my family and I. I had just been diagnosed with depression, started on medication and trying to just take a day at a time. Come mid December 2016, I started thinking about New Year's Resolution and I didn't want to add any additional pressure on myself, so instead of writing down 1091818 goals that I would fail, I decided to pick a word I would focus on for 2017. My word I choose was JOY because after the year I had, I was focused on finding my joy again.
Through out 2017, I constantly asked myself if joy was in all areas of my life? Home? Friendships? My marriage? My businesses Angela Henderson Consulting and Finlee and Me? Sometimes joy was there and other times it wasn't, but what I liked is that I didn't feel pressured and I could assess this through the year and make changes.
It's that time a year again when we reflect on the last 12 months and start thinking about the next 12 months and I would strongly encourage you to take some time choosing your word of the year.
5 Steps for Choosing Your Word of the Year
I've been chatting with my many of my business consulting clients over the last couple of weeks and I'm encouraging them to try something different. Instead of getting caught up with New Year's Resolutions or creating massive lists of goals and plans for the next year, I'm asking them to think about what they really want to create over the next 52 weeks. Not just in business, but in their home, community etc and I encourage you to do the same.
So grab a piece notebook, pens, pencils, markers etc as this is going to be a super fun and powerful exercise.
Step 1: Reflection
Before we jump into anything, I would encourage you to take a minute and reflect on what the last 52 weeks have been like for you. Then I'd like you to ask yourself these questions, jotting down whatever comes into your mind. Unedited. Perfectly imperfect.
What could I use more of in my life?
What could I use less of in my life?
What characteristics would I like to have?
By the end of the day I feel (fill in the blank).
How do I want to feel?
Step 2: Making Your Word List
Spend at least 15 minutes (or as much time as you need) creating your list of words. Write down anything that comes to mind, think about what you're feeling, go back and review your answers from step 1. Look in a dictionary, wander around your house.
This is not about perfection or editing; just be in the moment and start writing down the words that come to you.
Here are some examples of words: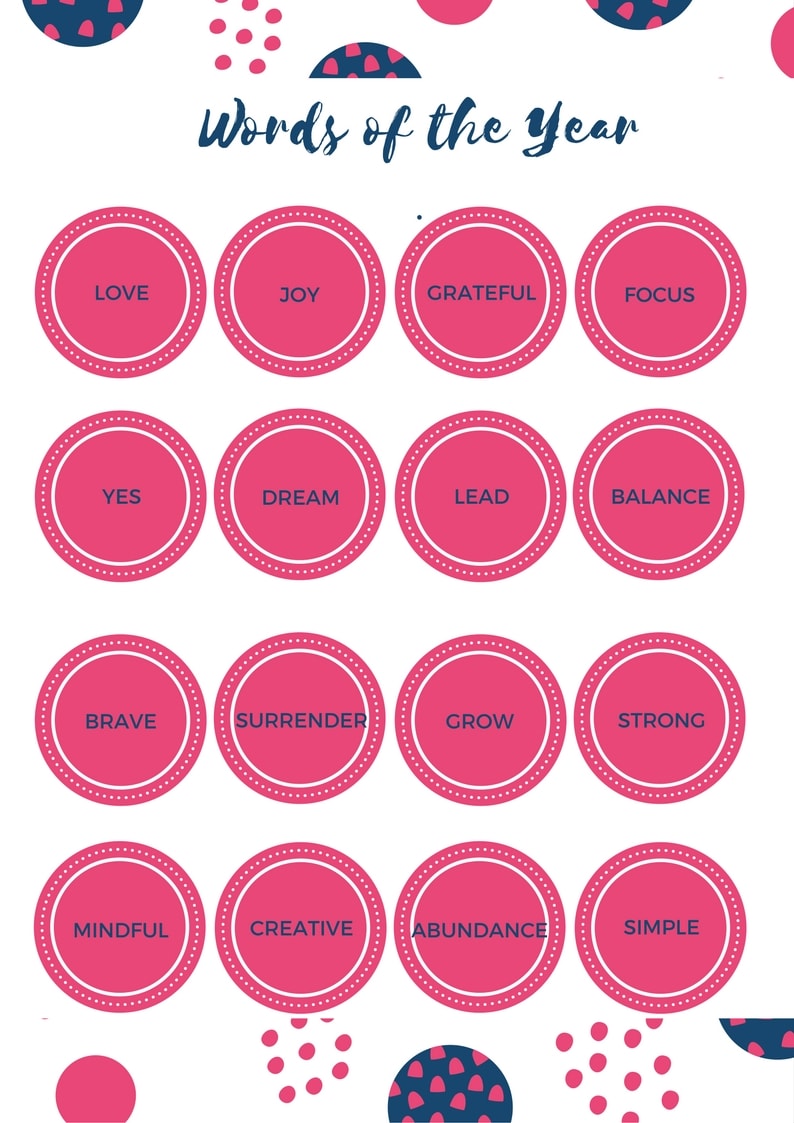 Step 3: Trust Your Intuition
Now it's all about, choosing your word of the year. The word that you'll use through out the year to stay grounded in all areas of your life.
Try not to over think this process. In fact, you probably already know what you want the next 12 months to look like. So have a look at your list from above, be honest with yourself and follow your gut when deciding on what word you want to use.
Step 4: Keep Your Word In Prominent Places
The past year, I had the word joy written on my laptop, on my office all and in my wallet. I had it in these places in order to keep it visible and as a reminder to what I wanted to create throughout the year.
Have a think about where you can place it so it can become a daily remember for you too. The more visual your word is, the more impact it will have on you through the year.
Step 5: Give Yourself Permission to Change Your Word
If at anytime during the year things change for you then choosing your word of the year again is 100% ok. Simply choose your new word, pop it down so it's visable and keep kicking ass.
This is all about being perfectly imperfect.
Grab Your Choosing Your Word of the Year Booklet
If you're anything like me, you like to write things down. Put pen to paper. So I've created short choosing your word of the year booklet to help you find your word. Just pop in your details below and it will be sent to you straight away.
Once you've chosen your word of the year, make sure to leave a comment below as I love hearing what you're working on for next year. And remember if you need some assist with creating structure and growth for your business book in for a free 30 Minute Discovery Call.
Wishing you all an awesome week,
Angela
Angela is a business consultant,  entrepreneur, Netflix blogger, author, mental health clinician and most importantly a mother. Connect with her in her Facebook Group, Facebook Page, Instagram, Linked In and her website Angela Henderson Consulting.